3D Wedding is Filmed with RED Epic 5K 3D Cameras
Posted on: 06/21/2012 09:15 PM
The wedding of Julia and Stuart was filmed in full stereoscopic 3D using the ultra-expensive and ultra-high definition RED Epic Cameras. These are the same cameras that are being used on the upcoming Peter Jackson film The Hobbit, and were also used on Prometheus (and many other big name movies and TV shows). They can film at up to 120fps in 5K resolution, so the bride and groom won't loose a pixel of memories. Although this is not the first 3D wedding ever filmed, it is the first to use such serious film making tools.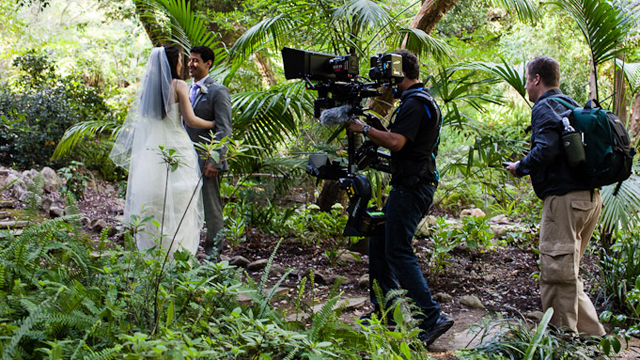 The production quality of the video is quite stunning and includes what seems to be a custom made sound track as well.
Golden Gate 3D
filmed and produced the video, with a small film crew, steady cams, and everything you'd expect to be on a mini-movie set. The high definition video has more benefits too - no pictures were taken at the entire wedding. Frames from the insanely high resolution video cameras can be pulled out to make photographs that rival any modern professional camera.
The video was filmed at The Mirador Estate in Montecito, California (near Santa Barbra). The 3D video from the gardens of the estate are truly stunning and beautiful, and the 3D and slow motion effects make it feel like you're really there. Try not to cry while watched this trailer video!
---