3DMark Preview
Posted on: 02/03/2013 11:27 PM
This version of 3DMark is simply called 3DMark. Honestly, the simplicity in the name is bound to confuse people as there are a number of different 3DMark versions and products still in use. I can see the companies point going forward, it will eventually be a good thing to just think of 3DMark as one product - but it will take some getting used to for us old schoolers.
3DMark is a benchmark software by Futermark that is designed to measure your computers hardware performance by running intensive graphical and computational tests on your hardware to produce a quantified number for comparison. the tests are mainly focused in the area of 3D, video and gaming. This version version includes three different tests, each designed for a specific type of hardware ranging from smartphones to high-performance gaming PCs.
Each test adds a level of complexity in an attempt to really max out your machine. My desktop which, isn't exactly new (Intel i7 K875 2.93GHz with a Geforce GTX 470) but no dog, was easily able to handle the first two test but the last and coolest, not-so-much. My box produced a very underwhelming 5 frames per second, which is a lot like watching bad stop motion videos. In other words, 3DMark tests are very demanding. But that's the point push the machine to see if it is up to todays gaming levels.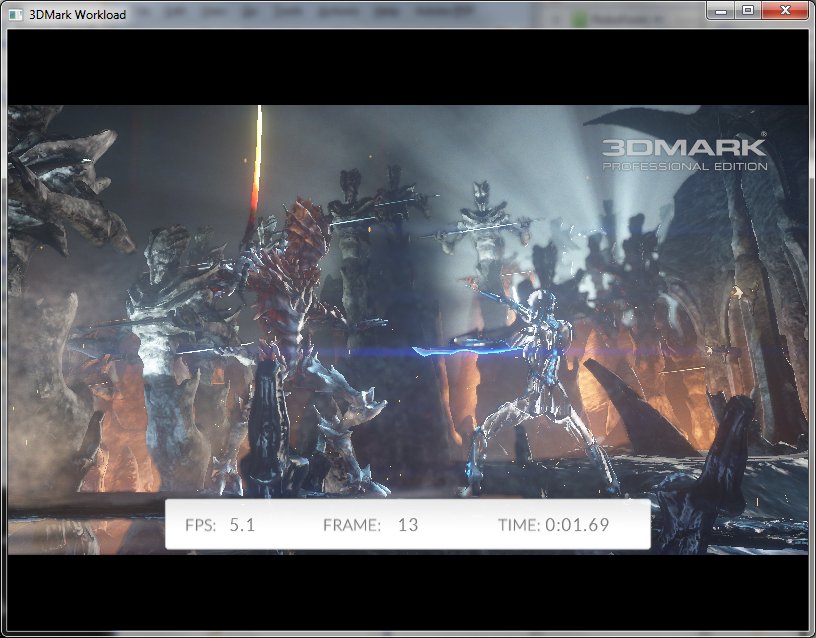 What it all boils down to is producing very advance graphics to push a machine to it's limits and derive a number. That number you can then use to compare with your friends and others on-line to see if your machine is running up to spec - or if some adjustment and/or upgrade is needed.
That said, most of us just want to see the eye candy, so here's a full video capture of the first and easiest test to be released - with no benchmark results. Also, we've converted it to 3D so those of you with glasses - feel free to toggle and enjoy.
The full version will be made available 2/4/13 and will weigh in at around 970MB downloaded for Windows machines. Android and IOS versions will be made available at a later date. As of yet, we have not seen any pricing information. However, generally the Futuremark's pricing model is free to run but around $20 to share and upload data. So we are assuming that.
---