AC Ryan Releases Playon!HD 3D to Stream 3D Content and Convert 2D to 3D Video
Posted on: 08/02/2012 08:50 PM
The Playon!HD 3D is the best of its class of Full HD media players capable of playing 3D content to bring home entertainment to a visually stunning, life-like experience with your 3D capable display! The Playon!HD 3D featured Realtek's latest 1186 processor with the most media formats supported including 3D formats.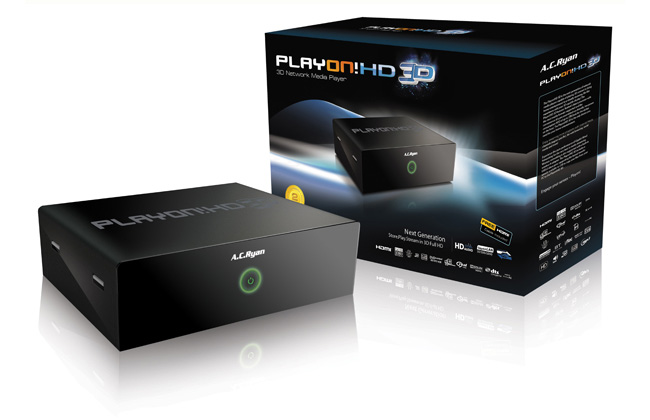 Experience the pure performance of Gigabit Wired Networking for the very best in media streaming. Wireless networking is also supported with a built-in wireless-N adapter for full flexibility and of course, Internet Media to provide lots of online content, lite web browsing, social media and more! The Playon!HD 3D includes a USB3.0 slave port, supporting the fastest transfer speed available to USB to your files from your PC to the Playon!HD 3D. Also armed with 4 USB host ports, users will never be short of connectivity for any devices like keyboard, mouse or external HDD. Building on the success of previous generations of Playon!HD media players, Playon!HD 3D sports the usual black matt finished with the popular EZ Drive HDD slot for ease of 3.5" HDD installation. AC Ryan Playon!HD 3D comprehensive package includes an AC Adapter, HDMI cable, USB 3.0 cable, remote control and a quick user guide. It also comes with full 2 years warranty.
AC Ryan Playon!HD 3D will be available in stores from Aug 2012 for about $249.
---