Anaglyphs! Is a Fun Free 3D Game for your iPhone, iPad, and iPod
Posted on: 06/23/2012 07:56 PM
Anaglyphs! Is a classic tile-matching game that is rendered in full anaglyph 3D for your iDevice. Boiled Goose, the developer behind Anaglyphs! and other 3D apps , calls this fun little game "An eye-popping, out of this iPhone experience!". Go to the
App Store
to get it now.
This App is simple and straightforward, and makes for a great 3D experiment consideing its free. The tile game gets a little boring pretty quickly if you have the attention span of a goldfish (like me), but its still entertaining for those long car rides or ride on the subway.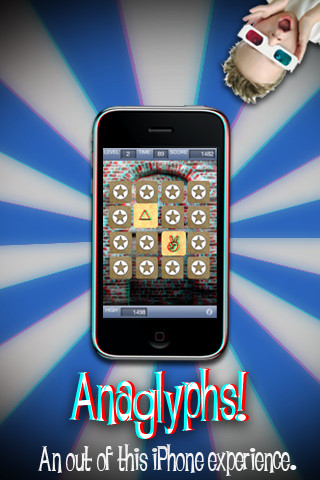 Here is the App's description directly from
Boiled Goose
:
Anaglyphs! is a graphically-rich Stereoscopic 3D Memory Match game, featuring multiple themes for variety and cards that appear to float off the screen! 

(Also includes 2D game mode)



Features:


+ Multiple graphically rich themes!

+ Level progression - can you beat the clock?

+ Auto-Saves at the start of each new level. Time, Level, Score and Theme are all saved so you can quit anytime and continue when you come back!

+ High Score tracking. Try to beat your top score!

+ Chain Combos! Earn extra time and points by matching two or more pairs in a row!

+ User adjustable in-game volume setting.

+ Each theme features 15 unique background images that change with each new level.




Themes:
+ Classic: A collection of images and textures from Scotland, Italy, Switzerland, Belgium, France and the US, all set in recessed 3D space.

+ Winter: Experience a life-like Colorado winter in 3D. Mountains, parks, creeks and more. Snowfall particle effects add realism to the scene. 

+ Classic 2D: Classic Mode formatted for use without 3D glasses. Scenes are vibrant, unique and beautiful.


*3D effect requires the use of red/cyan (commonly known as red/blue) 3D glasses. You don't need anything fancy! The plain white cardboard glasses work great!

---