Creature of the Black Lagoon to be Released on Blu-ray 3D
Posted on: 06/29/2012 12:45 AM
For the first time ever, eight of the most iconic cinematic masterpieces of the horror genre will be available together on Blu-ray when
Universal Classic Monsters: The Essential Collection
debuts on October 2, 2012 from Universal Studios. Digitally restored from high resolution film elements in perfect high-definition picture and stunning high-definition sound for the first time ever,
The Essential Collection
brings together the very best of Universal's legendary monsters — imaginative and technically groundbreaking tales of terror that launched a uniquely American movie genre.
This definitive collection features eight films on Blu-ray, a collectible 48-page book featuring behind-the-scenes photographs, original posters, correspondence and much more.  Each iconic film is accompanied by an array of bonus features that tell the fascinating story of its creation and history, including behind-the-scenes documentaries, filmmaker commentaries, interviews, storyboards, photo galleries, and trailers. Especially appealing for fans are a never-before-seen featurette about the restoration of Dracula and the first ever offering of Creature from the Black Lagoon in its restored Blu-ray 3D version. This is scary on a whole new level!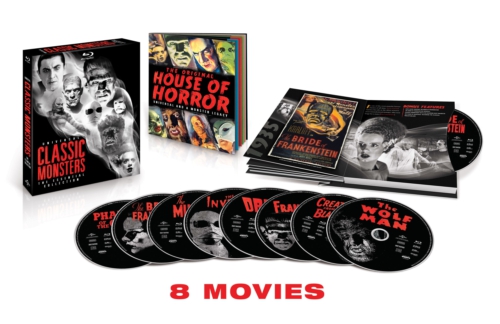 From the era of silent movies through the present day, Universal Pictures has been regarded as the home of the monsters.
Universal Classic Monsters: The Essential Collection
honors the studio's accomplishments with the most iconic monsters in motion-picture history including Dracula, Frankenstein, The Mummy, The Invisible Man, Bride of Frankenstein, The Wolf Man, Phantom of the Opera and Creature from the Black Lagoon. Featuring performances by legends of the horror genre, including Bela Lugosi, Boris Karloff, Lon Chaney, Jr., Claude Rains and Elsa Lanchester, these eight iconic films also feature groundbreaking special effects and innovative makeup that continue to influence filmmakers into the 21st century. Sure to be a Halloween favorite for years to come,
Universal Classic Monsters: The Essential Collection
is the ideal gift for film buffs and horror aficionados alike. This movie package is sure to be the perfect Christmas gift for the horror buffs on my list.
Here are the details about Creature from the Black Lagoon, which will be in full stereoscopic 3D:
Creature from the Black Lagoon
(1954) 
Captured and imprisoned for scientific study, a living "amphibious missing link" becomes enamored with the head researcher's female assistant (Julie Adams). When the hideous creature escapes and kidnaps the object of his affection, a crusade is launched to rescue the helpless woman and cast the terrifying creature back to the depths from which he came. Featuring legendary makeup artist Bud Westmore's brilliantly designed monster, Creature from the Black Lagoon is an enduring tribute to the imaginative genius of its Hollywood creators.
Bonus Features:
The Creature From The Black Lagoon in 3D
Back to The Black Lagoon
Production Photographs
Feature Commentary with Film Historian Tom Weaver
100 Years of Universal: The Lot
Trailer Gallery
---