DAZ Studio 3D Modeling Software Free for Limited Time
Posted on: 06/20/2012 12:26 AM
We just heard that DAZ is offering their stunning DAZ Studio, Hexagon, and Bryce 3D Modeling software for free. Yep - totally free!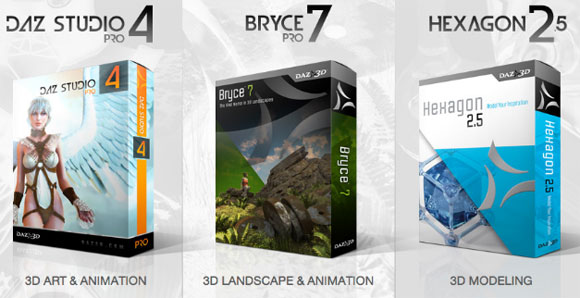 "We're excited to make this offer" said James Thornton, CEO of DAZ. "We wanted to give any digital artist the opportunity to experience DAZ 3D software for the first time and the full suite of 3D models and 3D animation software products available on DAZ3D.com."
"This is a limited time offer because the software is valued at over $800." Thornton continued. "DAZ Studio is the most popular 3D animation software on Download.com. DAZ3D.com has over 10,000 add-on products to use in most 3D software applications including DAZ Studio, Bryce, 3D Photoshop, Poser, Blender and Maya." DAZ's website offers a surprisingly large range of digital content including 3D human models, 3D anatomy, clothing, animals, vehicles, buildings, environments and 3D animations. Considering it doesn't cost anything, you might as well head over to www.daz3d.com and get your free software. I did!
---