Dimensional Optics Releases 3ACTIVE 3D Glasses for Sharp 3D TVs
Posted on: 05/31/2012 12:04 AM
3ACTIVE® 3D Glasses are designed to be more than just a 3D TV accessory. Providing quality at an affordable price is the best way to being introduced to the excitement of 3D entertainment.
The 3ACTIVE® brand of rechargeable 3D glasses for Sharp 3D TV's are manufactured from high quality materials and boast an extremely comfortable fit providing one of the best values available in the 3D eyewear market today. These glasses' lightweight frame design allows for extended viewing comfort, and built-in rechargeable batteries save money by eliminating the need to buy replacements. Full frames and wide temples block peripheral light providing improved visual experience. The glasses also include convenient and practical storage cases help keeps glasses clean and protected from damage.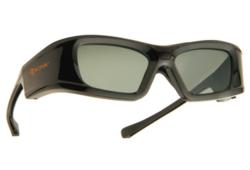 When you arrive at www.dimensionaloptics.com, Sharp 3D TV owners will find an easy-to-navigate website which includes compatibility guides and product comparison charts. All of these components are designed to inform and educate the consumer about comparable 3D glasses and compatible 3D TV models. Dimensional Optics has done a great job taking the confusion out of 3D! The Dimensional Optics 3ACTIVE Sharp Compatible 3D Glasses are available
here.
"See More, Spend Less with Dimensional Optics."
---