Disney Announces Wreck-It Ralph 3D Video Game for Nintendo Game Consoles
Posted on: 06/25/2012 09:07 PM
Disney announced a collaboration to produce and distribute a Wreck-It Ralph video game today. As a story extension to the highly anticipated upcoming blockbuster film of the same name from Walt Disney Animation Studios, the Wreck-It Ralph video game is set to inspire a whole new generation of young gamers as a classic, arcade-style side scroller featuring Ralph – the misunderstood villain of his own arcade game who sets out to prove he can be a hero too.  Debuting this fall (tied to the movie release), Wreck-It Ralph will bring all the fun from the big screen right into the living room for the Wii™ system from Nintendo, and the Nintendo 3DS™ and Nintendo DS™ hand-held systems.
"Wreck-It Ralph, as a brand entity, is perfectly suited for video game stardom," said David Oxford, Executive Vice President, Activision Publishing.  "With the fantastic characters and creative atmosphere envisioned by Walt Disney Animation Studios, we know fans are going to love seeing their newfound favorite characters embark on an all-new side scrolling adventure."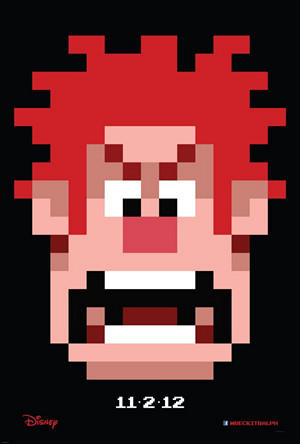 From the mind of Director Rich Moore ("The Simpsons," "Futurama&quot
, the film chronicles the journey of Ralph, the bad guy in an arcade game who sets out to prove he can be the hero after all.  However Ralph mistakenly reverts to his clumsy nature and "wrecks" everything once again, unleashing a deadly enemy threat onto his video game neighbors.  The movie hits theaters on November 2, 2012 and features an all-star voice cast, including John C. Reilly, Sarah Silverman, Jack McBrayer and Jane Lynch.
The game picks up where the movie leaves off as Ralph partners with Fix-It Felix and sets out to save their friends and home from a huge Cy-Bug invasion.  Pounding through all-new levels in the "Wreck-It Ralph" universe, like Sugar Rush, Hero's Duty, and Fix-It Felix, Jr., players will have to use Ralph's destructive strength to beat by the Cy-Bugs, while switching back to Felix to repair the damage.  With story campaign and two-player co-op on the Wii platform, players can switch between Ralph and Felix to solve action-packed puzzles and collect "Hero Medals".  
Walt Disney Animation Studios and Emmy®-winning director Rich Moore take moviegoers on a hilarious, arcade-game-hopping journey in "Wreck-It Ralph."  Ralph is tired of being overshadowed by Fix-It Felix, the "good guy" star of their game who always gets to save the day.  But after decades of doing the same thing and seeing all the glory go to Felix, Ralph decides he's tired of playing the role of a bad guy.  He takes matters into his own massive hands and sets off on a game-hopping journey across the arcade through every generation of video games to prove he's got what it takes to be a hero.
On his quest, he meets the tough-as-nails Sergeant Calhoun from the first-person action game Hero's Duty.  But it's the feisty misfit Vanellope von Schweetz (voice of Sarah Silverman, "The Sarah Silverman Program&quot
from the candy-coated kart racing game Sugar Rush, whose world is threatened when Ralph accidentally unleashes a deadly enemy that threatens the entire arcade.  Will Ralph realize his dream and save the day before it's too late?  "Wreck-It Ralph" crashes onto the big screen on November 2, 2012, in Disney Digital 3D™ in select theaters.
---