Glasses Free 3D Displays are Now In Use at Revel Resort and Casino
Posted on: 05/25/2012 10:52 PM
Exceptional 3D
has announced the implementation of their patented auto-stereoscopic 3D technology at Revel, a 6.3 million square foot beachfront destination in Atlantic City. These new displays scattered across the resort's campus are designed to inspire and entertain its guests. The relationship was cultivated through Exceptional 3D reseller TDN Money Systems, a Pennsylvania Gaming and Banking Distribution Corporation. The glasses-free 3D displays are a noticeable feature within the $2.4 billion properties 130,000 square foot gaming floor and pay compliment to the latest slot machine games from Bally Technologies.
"This is a very gratifying achievement as someone with first-hand professional marketing experience in Atlantic City's luxury entertainment and casino industry," said Eric Angello, CMO for Exceptional 3D. "Atmosphere, sensory indulgence, aesthetic swagger and natural activity contribute to the energy you feel at Revel," continued Mr. Angello, "and our 3D technology is a perfect fit for the prevailing first-class environment." Mr. Angello finished in saying, "we've always considered no-glasses 3D to be a logical fit because of its unique distinction from typical 2D signage and proven ability to increase customer awareness of events, promotions and experiential programming. This is a true benchmark for any glasses-free 3D customer experience in casino gaming, nightlife and entertainment."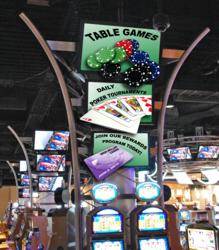 Revel
embraces its natural surrounding from ocean to the beach and Boardwalk; the no-glasses 3D displays are an advocate of that archetype. The setting that the 3D technology was appointed to serves the surrounding area perfectly. The 3D content literally reaches out and invites guests into an aesthetically intriguing environment where the 3D displays have taken on a very cohesive form to match the overall look and feel.
"Exceptional 3D's technology was something I considered to be a perfect fit for Revel's lifestyle and gaming experience," said a Revel Senior VP spokesperson. "We have many offerings for the guests that come to Revel," continued the Senior VP spokesperson, "we were very excited at the opportunity to enhance the guest experience with glasses-free 3D while preserving the visual authenticity." The Revel Senior VP spokesperson finished in saying, "Exceptional 3D displays bring a real 'WOW' factor which would be overlooked with typical 2D signage and that is something we were very excited to incorporate into the gaming experience."
This feat follows Exceptional 3D's recent praise for being named "Best-In-Show" at DSE 2012 for "Best 3D Digital Signage Product." Revel is headed into their premiere weekend, Friday, May 25 – Monday, May 28, with a series of performances by Beyoncé.
Photo via PRweb.
---