Is Porsche Creating a 3D Car Configurator?
Posted on: 06/11/2012 12:23 AM
We are all used to car configurators that use 3D modeling, but how about a car configurator that is full stereoscopic 3D? Porsche may be doing just that.
If you are at all into cars, you are probably familiar with Porsche. Porsche's name has been a synonym for innovation and quality since 1948 when they released the model 356. If you are not only a car geek but a computer geek as well, then you will probably be enamored with Porsche's website, which is often changing and releasing "web specials". Leading the charge of technology, Porsche has a kick butt car Configurator.
While browsing
Porsche's USA website
yesterday, I noticed that they had a thumbnail of the new Cayenne GTS with a caption that read "Now available in the car configuration... visualization in 2D or 3D". How awesome is that?! But, when the button is clicked, it links to nowhere. Hmmm...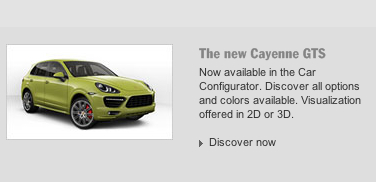 Given my journalistic nature, I looked into the matter. A Google search returned no results - no one is talking about it (odd). With a search of the Porsche website, only 2 results appear. The first links to the Cayman configurator when clicked, but shows no sign of 3D comparability.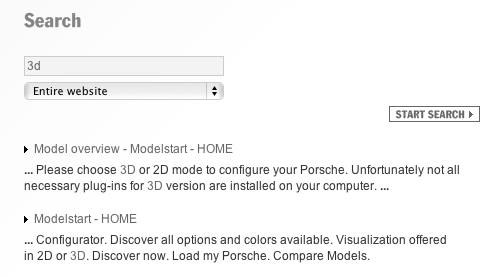 All of the signs point one way: Porsche must be implementing a full 3D car configurator on their website, but it has not been fully launched yet. We will keep track of the German sports car makers website and report back as soon as possible!
---