Most Expensive Graphics Card
Posted on: 06/19/2012 05:14 AM
We all want the newest and best graphics card, but would you spend $6000 on one?
PNY Technologies makes some great hardware, but this card gets a little crazy. Its the NVIDIA Quadro 6000 Graphics Card.
PNY
calls this card "an ideal solution for applications requiring unprecedented levels of immersive realism or interactive visualization that utilize frame lock or genlock functionality to choreograph multi-device film and video environments, or visualization clusters for effects rendering, scientific or engineering use."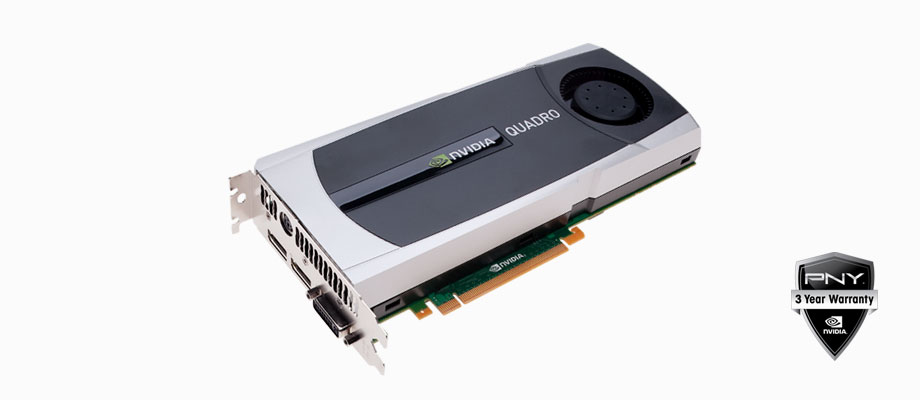 Its the world's first 6GB (of GDDR5) memory graphics card, and it has the price tag to boot. This ad on eBay has it listed "Buy it Now" for just $5900, and they even charge $30 for shipping. Wouldn't you think they would give you free shipping when your spending almost $6000? Sheesh. The price tag gives it the title of the most expensive commercially available graphics card in the world. The money is well spent, though - this card has 144GB/s memory bandwidth, 384-bit memory interface, and 448 CUDA Parallel Processing Cores; all backed up by PNY's awesome 3 year warranty.
The 3D graphics architecture can handle up to 16K x 16k texture and render processing! 16x angle independent anistropic filtering is not a problem, and 64x full scene antialiasing won't even spin up your fans (okay okay thats just a joke). Basically, this card can handle anything you throw at it. The display features are great too. It supports 30-bit color (10-bit per each red, green, blue channel), full OpenGL quad buffered stereo support, and NVIDIA Mosaic multi-display technology.
The best part? The minimum system requirements cites "1GB or more of system memory". Who the heck is going to have 6 gigs of graphics processing and 1 gig of system RAM? If you're ready to run out an buy one of these incredible cards, just go to
this eBay ad
and buy away. The seller has 10 available - you might as well get 2!
---