Pioneer Releases New BDP-150 Blu-ray 3D player with Free iControl App
Posted on: 07/03/2012 05:19 AM
Pioneer has released its new Pioneer BDP-150 Blu-ray 3D player, bringing advanced technologies and a range of features consumers and enthusiasts will appreciate. The BDP-150 provides superior picture and audio quality, including high definition file playback for video, audio and photos and the new iControlAV2012 iPhone and Android app for control convenience.
"Pioneer's BDP-150 helps bring more audio and video content into any home theater setup with playback and performance at the highest level," Chris Walker, director of AV marketing and product planning for the Home Electronics Division of Pioneer Electronics (USA) Inc. "The player is equipped to take even low resolution audio and video content and improve it, further elevating your home theater experience."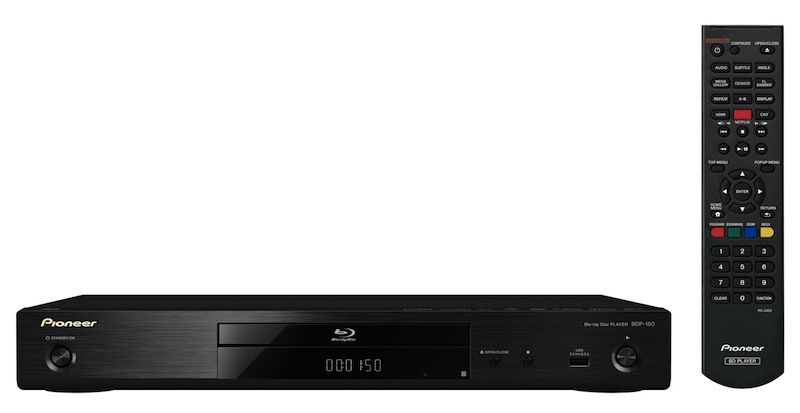 In addition to being designed for the highest quality playback of Blu-ray and DVD content, the BDP-150 is geared to access other network-based content. Pioneer built in many of today's most popular entertainment network features including Pandora®, YouTube® and Netflix®, available using an Ethernet connection or the optional AS-WL300 wireless network adapter. DLNA® certified, the player enables music content to be shared from a PC via the user's home network, and for the first time, comes equipped with DLNA DMR (Digital Media Renderer) capability, enabling content to be pushed directly from a portable source, such as a compatible smartphone. Users have access to a virtually endless supply of content with the BDP-150's ability to play back high definition files that can be stored and retrieved from a USB thumb drive, USB hard drive (NTFS formatted) or via a home network, with support for up to 16 file formats including MKV, MP3, WAV, and MP4.
The new player also features a 192 khz/24-bit audio DAC for enjoying high resolution audio files and supports DTS-HD® Master Audio™, Dolby® TrueHD and Super Audio CD® high-quality audio formats. In addition to audio, the player is also built with a focus on high-quality video reproduction, supporting HDMI 1080p/24 Hz output and 36-Bit Deep Color for producing a clearer and more vivid picture and the highest color accuracy possible.
For extra convenience and control, Pioneer's free iControlAV2012 App enables Apple's iPad®, iPhone® or iPod touch® to act as a basic remote control for the player when connected via a wireless router. The app is available for download at no charge from the App Store. iControlAV2012 for Android phones is available from Google Play.
The BDP-150 has a MSRP of $179, but we have already seen it priced a little cheaper.
---