Stream Your iPad, iPhone, Apple TV, and Android Content to a Glasses Free 3D TV
Posted on: 07/06/2012 09:12 PM
Stream TV Networks, a company that makes glasses-free 3D technology for TV sets, has released a statement that said iPad, iPhone and Apple TV users will be able to beam movies or application images to upcoming glasses-free 3D TV sets based on the company's autostereoscopic technology.
Movies purchased from Apple's iTunes store or applications such as Angry Birds can be beamed to glasses-free 3D TVs with Stream TV Networks' Ultra-D technology. The technology combines an optical lens on a panel and a software and hardware layer to convert high-definition images into a format suitable for glasses-free 3D TVs. If this new product can get any grip in the market, it will be a serious game changer. For example, users can stream Netflix movies through Apple TV, and the Ultra-D software layer does the 2D-to-3D conversion into a format suitable for the glasses-free 3D TV. The layer can also convert in real-time stereoscopic 3D images or high-definition images from the Xbox or PlayStation gaming consoles. In a demonstration by the company, 3D content was easy viewable from different angles without glasses, and the image quality did not deteriorate. Stream TV is also making the capability available for Android devices, which also includes Google TV (and the new Nexus Q, I am guessing?)
"We can do Symbian and BlackBerry if we have to," Rajan, the company's CEO, said.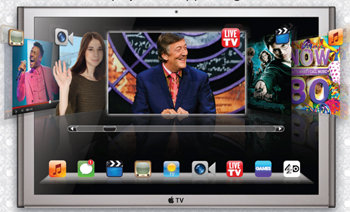 Now that we've gotten you all exited, we have to tell you that glasses-free 3D TVs with Ultra-D are not available yet. Stream Networks is just now making the Ultra-D technology available to TV makers. Rajan said major TV makers with large distribution networks are looking to adopt Ultra-D technology for TVs and other devices, though he declined to provide specific names.
"A lot of the major players are banging on our door to add this technology to their products," Rajan said. The company is partnering with contract manufacturer Pegatron to manufacture Ultra-D products.
The first Ultra-D TVs may come as soon as this fall though. Stream Networks has already built a prototype 42-inch glasses-free TV to demonstrate the technology.
Glasses-free 3D TVs are not widely available yet, with only a few companies like Toshiba and
Exceptional 3D
releasing products. Autostereoscopic TVs remain the next big goal in 3D TVs, and companies such as Sony and Samsung have demonstrated prototype TVs, but there have been issues around effectively splitting images between the right and left eyes at the same time fora good 3D effect. Stream TV has overcome the issues with a combination of both hardware and software.
3D TVs are gaining popularity, but the need to wear 3D glasses remains a hindrance to its growth. Shipments of 3D LCD TV panels totaled 7.8 million in the fourth quarter of last year, up from 26 percent compared to the same quarter in 2010. 3D TV panel shipments could total 50 million units this year, a 21.6 percent penetration rate of all LCD panels shipped. Thats some serious market penetration!
The company also wants to push its Ultra-D technology to tablets and smartphones, and Rajan said the company hopes to show off a 5-inch 3D smartphone based on its technology later this year. Stream TV has got it goin' on! I can't wait to see what else the innovative company brings to the table.
---