Tonka Truck 3D Movie Announced
Posted on: 06/25/2012 09:21 PM
TONKA, the Hasbro brand that is now 65 years old, will bring its rough-and-toughness to the big screen in a fully animated 3D motion picture to be produced by Sony Pictures Animation, Hasbro and Happy Madison Productions. The announcement was made today by Bob Osher, president of Sony Pictures Digital Productions. The film will also be produced and developed by Goldner and Hasbro's senior vice president and managing director of motion pictures, Bennett Schneir and will be written by Fred Wolf.
The new TONKA truck project strengthens the growing ties between Sony Pictures and Hasbro, following the announcements that Sony Pictures is developing motion pictures based on Hasbro's Risk and Candy Land brands.
Commenting on the announcement, Osher said, "In its 65 years, TONKA has become more than a toy or a brand - TONKA trucks are a rite of passage for kids all around the world. Time spent with these toys creates memories that last a lifetime as kids are inspired to play using the boundaries of their imagination. We look forward to creating a family friendly motion picture that brings the Tonka experience to life."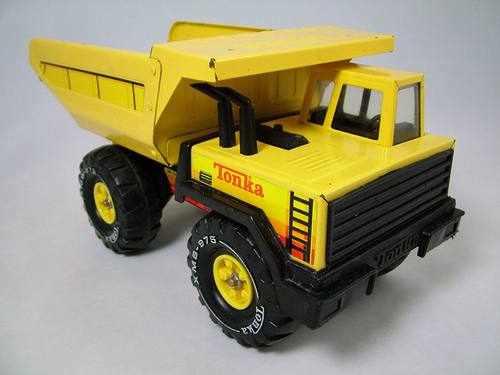 Raimo-Kouyate added, "Fred and our friends at Happy Madison and Hasbro have a truly inventive take on what it means to be 'TONKA tough' that will translate the multi-generational appeal of this world-renowned brand into a fun animated adventure for the whole family."
"We're thrilled to be working with Bob, Michelle, and the amazing team of artists and storytellers at Sony Pictures Animation," said Schneir. "Together with Happy Madison, we're excited to bring TONKA trucks to life in a terrific story for audiences around the world."
One of the most recognized brands in Hasbro's portfolio, TONKA has been the bestselling toy truck globally since 1947. Giving children real-life, relatable experiences, TONKA trucks help kids learn the confidence to get the job done. We are waiting to hear about a tentative release date for the 3D movie, but it is sounding like late 2013.
---