View-Master Makes 3D App and Glasses Free 3D Viewer for iPhone
Posted on: 07/16/2012 08:45 PM
Remember View-Master? Every kid has used one since 1939 (shipping over 1.5 billion units), and now the company has leaped into digital 3D.
View-Master 3D viewers have been around forever; their reels and viewers are truly iconic. But in this 21st century, the good ol' company has taken a step forward from those little white image disks we all remember.
You can download the free View-Master Digital3D app from the
iTunes App Store
and browse the selection of available titles. You can purchase image packs of around 20 images for just $1.99. The only problem is they don't even supply one sample image for you to check out… oh well.
Here comes the cool part: View-Master partnered with
Spacial View
to provide an innovation iPhone accessory that actually lets you view 3D content on your iPhone 4 or 4S totally glasses-free. You can buy the 3D viewer
here
for $30. It seems an expensive little novelty, but its well designed and (I think) you can view
any
3D content glasses free on your iPhone, not just the View-Master images. By the way, the case only fits black iPhones, white iPhones have different dimensions.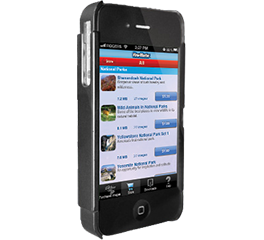 For all you non-iPhone users: View-Master says support for Android 3D smartphones, Windows PCs, and 3D TV platforms will come in the following months. Hurray!
---