Posted by: Jesse on: 11/28/2012 08:14 PM
Looks like Guns N' Roses is being added to the list of bands making 3D films, hopefully this is a good one!
Bands like Metallica, Big Time Rush (rumored), and Katy Perry have all been creating great (and some not so great) 3D movies. Now it looks like GNR is getting in on the fun, as reported on Twitter a few days ago.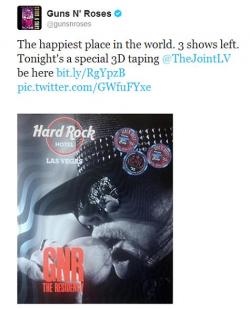 Guns N' Roses is currently playing a string of 12 shows at the Joint in the Hard Rock Hotel & Casino in Las Vegas. The "Appetite For Democracy" (funny right?) residency ran through Saturday, November 24, with the band playing a setlist exclusively created for these shows. This is all great stuff if you happen to be in Vegas, but here comes the exiting part: According to a posting on Guns N' Roses official Twitter, the November 21 performance at the Joint was filmed in 3D. Finally, we are getting some more rock bands in 3D!

As you may know, there is only one small problem. Singer Axl Rose is the only original member of the band, so its a little cheesy, but oh well. Sweet Child O' Mine will be totally worth it.
---
Comments