Creaform Makes Go!SCAN Portable 3D Scanner
Posted by: Jesse on: 11/10/2012 02:59 AM [ Print | ]

---

Tweet

---
We here at 3DGeeks love everything 3D, including
3D modeling
. One thing we often hear is how tough it can be to create a model of an existing physical object into a 3D model or CAD drawing. Its time consuming stuff.
Insert the Creaform Go!SCAN Portable 3D Scanner here.
This scanner is point and shoot; no need for a rig to set up or parts to assemble. Plus, its 10x faster than your average 3D scanner. Go!SCAN fits into a case the size of a carry-on bag and only weights 1 kg. Accuracy is nothing to sneeze at either, with up to 0.1mm tolerance. Sounds pretty tasty. eh?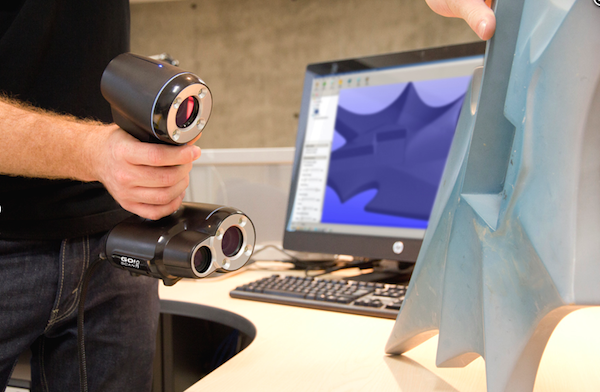 On top of all that, Creaform has some serious customers. Toyota, Black & Decker, BMW,
Boeing
,
Dassault
, and even
NASA
, just to name a few. Creaform has also won over 20 prizes and awards since 2002. This isn't some little start up that doesn't know what they are doing.
Visit
Creaform's website
for all the details, get a price quote (we don't know how much it is yet, but its probably we-sell-this-thing-to-NASA kind of pricing), or get a demo of this new product.
Update:
We have confirmed the price of the scanner at $24,900. Looks like this is going to be an automakers and NASA only kind of product for quite a while...
---
Comments
squs