Fans Attend Metallica Concert for Only $5 to be Part of Their 3D Movie
Posted by: Jesse on: 09/03/2012 02:47 PM [ Print | ]

---

Tweet

---
Today's technology is a double-edge sword for musicians; on one side, music pirating is everywhere, causing musicians to desperately search for ways to create income (and there aren't many other options) as their album sales plummet. But on the flip side, that same technology can make bands into global superstars.
Metallica is one of those global superstars, who continually search for new ways to entertain, keeping them relevant in popular culture; and therefore, very successful.
This 80's supergroup has made movies before. They released a documentary called
Cunning Stunts
in 1998, in a time where Napster (remember Napster) was stealing all of the music industries money. A few years later the produced the more movie-like
Some Kind of Monster
. Since
3D movies for bands
are all-the-rage these days, Metallica recently crossed a 3D Movie off their "Things To-Do" list, which will be produced by Hollywood director Nimród Antal (Predators 2010 and Vacancy 2007). Nimród and Metallica developed the movie concept together, with the summer tour just gone acting as the set.
"Apparently, they plan to intermingle live performances with a small storyline," says Shawn Scott, director of online music store Planet 13, "so, this will be a movie, not just a live concert in 3D."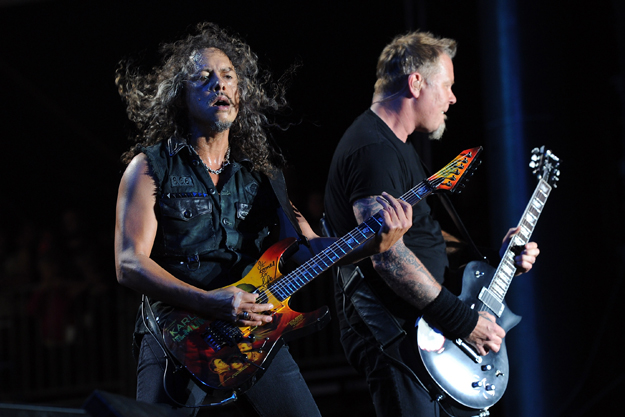 One of the notable parts of filming happened at the Orion Music + More festival in New Jersey, where Metallica performed their biggest album, "Metallica" (aka "The Black Album") of 1991, in its entirety in one night; and the next day played the complete "Ride the Lightning" album from start to finish. "Playing the 'Black Album' and 'Ride the Lightning' in their entirety," comments Shawn, "would've been a huge event for fans because the band has never done it before."
As the summer tour continued, the Metallica concerts hit max capacity, and the band ended filming in Vancouver, Canada on August 27th.
"Fans got a huge surprise with this last gig," says Shawn, "because it was announced last-minute as a charity show for the Vancouver Foodbank." Shawn further mentions how fans were shellshocked at the entry price, "Tickets were a mere $5, but then again, it was a charitable event, as well as a night of extensive filming. Fans attending that gig didn't get the amazing show everyone else did." The charitable Metallica concert was a night of less fluid filming because cameras and kits had to be moved around between each song to accommodate extra shots and close-ups for the movie. But heck, for $5, I still would have gone and got to say I was in Metallica's movie!
"Their summer tour, filming for a 3D movie and the last surprise show emphasizes to me that Metallica are here to stay," remarks Shawn, "they continually come up with new ideas to stay ahead of the game and I, for one, am always waiting to see what they'll do next."
The Metallica 3D movie is ready for theaters sometime in 2013 and will cover their 30-plus year career.
In prep for the show, you may want to check out Our Hetfield pci of the day from back in June -
http://3dgeeks.com/news_story/3d_picture_of_the_day_james_hetfield_of_metalica.html
---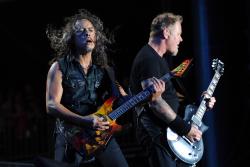 Comments
squs