HeartDecide App Lets Patients View 3D Beating Heart on their iPhone
Posted by: Jesse on: 07/19/2012 08:58 PM [ Print | ]

---

Tweet

---
The newest release by Orca Health sets the stage for the future of consumer health care. Orca's new app, called HeartDecide, uses stunning animated 3D visualization of a beating heart as a patient education tool. The app allows the patient, whether contemplating an upcoming cardiac surgery, trying to understand their heart disorder, or just for fun, to virtually "slice" the heart (maybe slice isn't the best word. Dissect? No thats not any better...) and peer into the organ while it is beating, observing the interplay between the atria, ventricles and valves.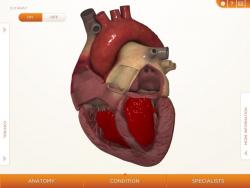 The conditions explored by HeartDecide include the following: Rheumatic Heart Disease, Mitral Regurgitation, Aortic Regurgitation, Endocarditis, Mitral Stenosis, and Aortic Stenosis. Among the medical solutions to these conditions covered by HeartDecide are Percutaneous Valve Replacement, Ventricular Assists Devices, Valvuloplasty, Impella, Biological Valve Replacement, Mechanical Valve Replacement, Annuloplasty, and Intra-Aortic Balloon Pumps. Got all that?
The quality of the graphics and animation are stunning, and the user interface works great and looks good. Orca Health is truly crafting a new level of sophistication in patient education apps. The app is free in keeping with their new strategy: to make all Orca apps free starting in September. Why go free just now? After an experiment earlier this year, where Orca removed the $5 fee and grabbed 450,000 downloads in just three days - about half of the company's total downloads to date. Even though Orca was profiting well by selling the apps, it's now going to try to make money from advertising and referring app users to relevant medical specialists. The company also plans to start releasing its apps for Android in the coming months. If you are at in on the medical scene, Orca Health is a company to watch.
Download the app free from the App Store,
here.
---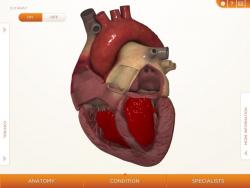 Comments
squs