Madagascar 3: Europe's Most Wanted 3D Review
Posted by: Jesse on: 06/13/2012 03:28 PM [ Print | ]

---

Tweet

---
Being a long-time Madagascar fan, I ran out to see Madagascar 3: Europe's Most Wanted as soon as it came out (in 3D of course). This 3rd installment of the Madagascar series was not a let down like most movies that have to carry the fame of their 2 previous films. This is the best ending to a series I have seen in a long time, only next to Toy Story's 3rd film (which was absolute bliss). The feeling of being "at home" was present at the movie's opening scene, with the penguins flying out of Africa on a massive home-made helicopter/airplane, with Alex the Lion patiently awaiting their return so that he could finally get home to New York City.
Without giving away the plot: This is the most action-packed Madagascar yet, with tons of chase scenes, a plane crash, and even crazy circus stunts. The Animals somehow make their way to Monte Carlo to find the penguins, but of course the plan gets compromised and a crazed French animal catcher, Capt. Chantel DuBois, gives chase to the team of fuzzy friends. In an attempt to escape, the animals join (and consequently buy) a traveling circus, even they have no idea how to perform. I'll let you go see the movie to find out the rest…
The 3D effects were great. The edges of images were not harsh or sharp, they were rounded and natural looking. Some images popped out in front of your face, others had extreme depth. Very impressive! Being a fully animated movie, it is much easier to make stunning 3D effects run from the beginning of development (something much harder to do in a movie like
The Avengers
). Madagascar 3 was made for 3D viewing- I wouldn't even want to see it in 2D. There are lots of action packed circus scenes that are really magical when the characters seem to be in the theater with you. There were some "jump out at you" 3D effects that did get a little annoying, although I'm sure the kids love them.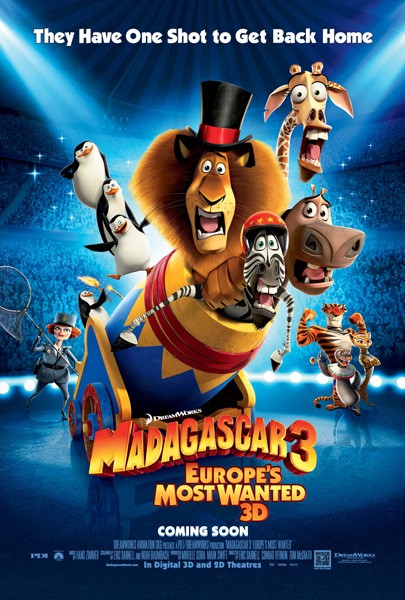 This is a film that is very fun for the whole family. It attracted many young viewers, with over a quarter of tickets sold for children under 12 years of age and more than half its total audiences comprised of viewers under 25. Not only that, "Europe's Most Wanted" made $10 million more than the sci-fi thriller "Prometheus" this weekend, topping U.S. and Canadian box office charts with nearly $60.4 million in ticket sales over the weekend alone. Looks like animated kids fun still beats out sci-fi thrillers!
The movie also debuted in 28 international markets, bringing global ticket sales to $135.8 million in its opening weekend, according to distributor Paramount Pictures. Not to bad for 2 days work, eh? The Madagascar franchise has grossed more than $1 billion around the world since the first film debuted in 2005.
Overall:
This is a great light-hearted, funny, and exiting movie that will be enjoyed by both the young and old. The 3D effects are great, and the plot is perfectly alined with the rest of the series. GO SEE IT!
(Did you get your
themed glasses
for Madagascar 3D yet?)
---
Comments
squs