Only in Britain: Sky 3D has a "pub finder"
Posted by: Jesse on: 05/10/2012 03:31 PM [ Print | ]

---

Tweet

---
We all know how much the UK loves their soccer - Ahem - I mean football. Actually, most of the world loves soccer way more than us here in the USA. We also know how the British and Irish love their pubs. What you may not know is that the UK also loves their 3D; So much so that they have their own dedicated 3D TV channel. Its called Sky 3D.
Sky 3D broadcasts 3D content exclusively, and is a normal TV channel. They broadcast at least 3 live sporting events a week, plus have a variety of other content like movies, documentaries, and exclusive videos. Its even free if you already subscribe to Sky's other content!
Now, here comes the part I find hilarious: On their website, Sky 3D has a pub finder. Yes, you heard me right, they have an actual web application that will help you find your nearest pub (or "bar" in America) so that you can enjoy your favorite social drinking spot and watch a live 3D soccer game. You can even choose between Ireland and the UK! Here is a link to Sky 3D's website and pub finder:
Sky 3D Pub Finder - Find out where you can watch Sky 3D online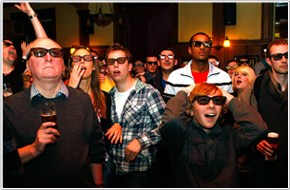 In all seriousness, its a great idea and quite brilliant. The experience is supposed to be quite amazing too. Viewers from the pub experiences have said things like "It was phenomenal. Far better than I thought it would be. You seem so involved in the game, part of the action. This is the way football should be seen" and "The shots from the crowd and behind the goal make it feel like you are there. Spectacular."
I can't wait for a dedicated 3D channel in the US!
---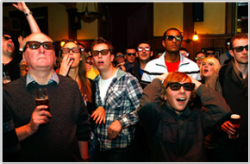 Comments
squs