This Lens Claims to Make Your iPhone Glasses Free 3D
Posted by: Jesse on: 08/30/2012 05:28 PM [ Print | ]

---

Tweet

---
We stumbled upon this iPhone screen shield on
eBay
. These simple plastic shields are common for protecting your iPhone's screen from scratches, but this one claims to do much, much more than just protect. The seller claims that it will make your iPhone viewable in glasses-free 3D. Here is the ad and sellers description, written in obviously translated-with-Google English: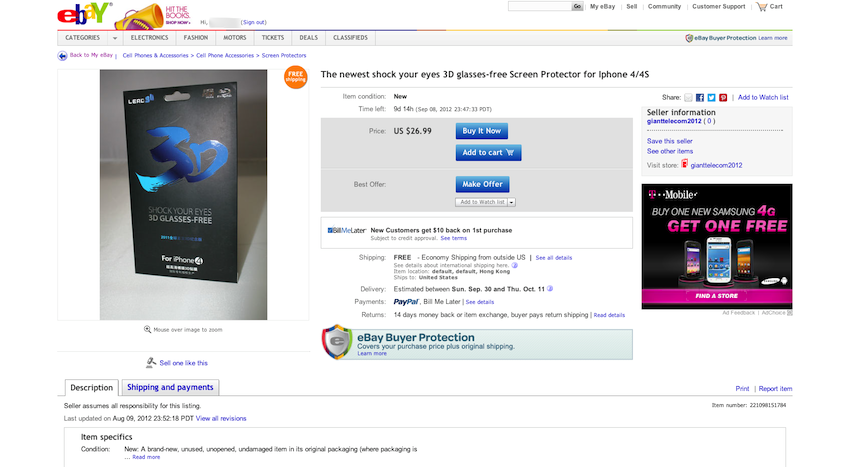 The newest shock your eyes 3D glasses-free Screen Protector for Iphone 4/4S

Now you can see the 3D effect without glasses on your iphone, this can shock your eyes. This is the newest clear 3D glasses-free screen protector.

Features: 100% brand new and high quality material

Can see the 3D effect without glasses on your iphone, not in the cinema

You have the web-site and download easily on your phone (not download in your computer first and transfer to your iphone)

Can effectively protect your phone for fingerprint and slipping

Easily clean for fingerprint, dust and anti-scratches

Long lasting protection

Leaves no residue when removed

Package included 1 x front protector and 1 x cleaning cloth

On the package, it has a web-site provided for you, and in this web-site, it has more 3D movie and other 3D effect film to download at your iphone directly.
Before dropping the unbelievably expensive $26.99 to try this out (remember that 'normal' screen protectors cost a few cents), lets do some investigating. First of all, the seller is located in China. Thats not a big problem, many Chinese sellers on eBay are very helpful and honest, but it is a little fishy. To add to the fish-market kind of stench is the fact that the seller has no feedback whatsoever.
But, that doesn't mean its not real. Heck, just look at the snazzy packaging! The picture is obviously real, its not a stock photo from somewhere on the interweb. Another positive is that this is not the only glasses-free 3D film on eBay...
This seller
is located in Japan, has over 20,000 feedback, and seems to be selling the same or very similar product (for $52!). This one even includes an App, plus links off to an
"official website"
with a weird URL. Although it seems much more legit, I'm still not sold on it - especially for $52. Remember, this technology isn't
that
crazy. There are already many glasses-free 3D phones on the market, not to mention the Nintendo 3DS and
3DSXL
which have been out for years. But, the biggest difference is that those devices have a lenticular lens build into the LCD screen, its not just some little film thats placed on top of the screen.
All in all, this could be a really cool way to make your iPhone 3D, or a total waste of a decent junk of change. If you have ever used one of these products or similar, please let us know. If you decide to make the plunge and buy one of these, contact us with your thoughts and feelings about this screen protector and we will post a review.
---
Comments
squs