Transformers The Ride 3D - Review
Posted by: Jesse on: 08/14/2012 03:54 AM [ Print | ]

---

Tweet

---
I recently went to LA; between all the beaches, hipsters, and more beaches I found time to get myself to Universal Studios Hollywood Theme Park to check out the new
Transformer's The Ride
in 3D. I had heard a lot about the awesomeness of this ride. The incredible HD 3D graphics, and all the thumpin' 5,000 watts of audio. Just kidding, I had no idea about this ride, I'm a Disney patron… Anyway, I had a decision to make. Wait in line for 95 minutes, or go back to hotel and count the number of oddly-clad street performers on the way back through Hollywood. Obviously, I stayed.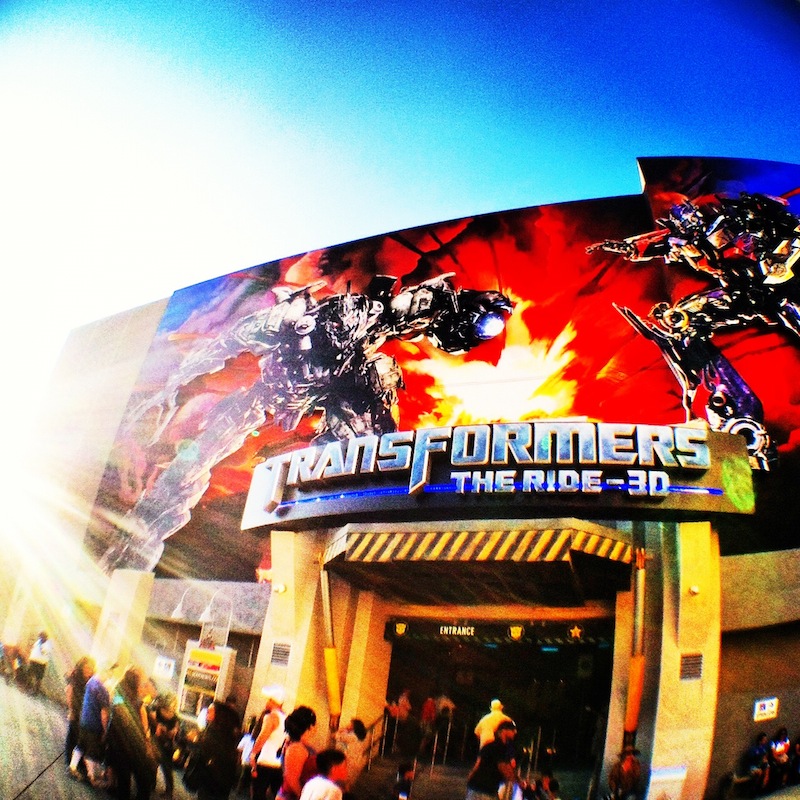 Alright people, hide yo wife and hide yo kids. This ride is insane.
Your hour and a half wait is the beginning of the ride. You weave your way through the NEST training grounds where several short clips are played on LG TVs that explain the rules and responsibilities of your recruitment to the top secret government agency. You are briefed on your impending adventure and the ongoing battle between the Decipticons and the Autobots, so you can get in on the story line even if you have never seen a Transformers movie. You eventually come to a room where the mother 'effin AllSpark is held. Its cool. Its shiny. Its blue.
After about an hour of standing of I was doubting my decision making skills. If I heard one more child exclaim they had to pee or "ARE WE THERE YET?!" I was going to die. Not really, but my feet hurt. When I thought I couldn't walk down one more hallway, I heard the glorious sound of hydraulics. The ride was close. We were soon handed our 'safety goggles' (AKA 3D glasses, how clever). A whopping hour and half later into my epic journey I saw the EVAC, our vehicle. This is a new character created specifically for the ride. The NEST officers scream (yes literally scream) at you to jump in your vehicle and you are quickly whisked away.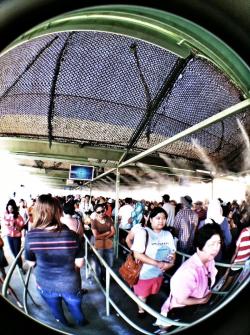 What happens in the next 5 minutes made me pee a little bit. The combination of Universal's creative genius Mark Woodbury and ILM's 3D expertise, Transformer's The Ride in 3D is, for the lack of a better word, spectacular. There is so much going on at once - Even now as I sit on this comfy blue couch I cannot remember everything.
You are in the middle of the battle. The speed at which everything happens is breathtaking. The synchronized combination of the 3D images, the vehicle movement, and the other special effects are so intense I shielded my eyes and braced myself for impact at every attack of the Decipticons. When a fireball erupts from an explosion, heaters blast on your face; when a Decepticon jumps on your EVAC you feel its weight. The audio was stunning, the towering IMAX-like panoramic screens make you feel completely engulfed in the action. I had to remove my glasses at one point just to convince myself I wasn't going to be slapped in the face by an evil robot. Bumblebee, Starscream, Devastator, Megatron, and Optimus Prime all make an appearance which added to the over the top scale of this ride. It was overwhelming, but in a good way. Kind of like when are faced with a banana split, or a stack of Benjamin Franklin's staring up at you. Not only were images projected on movie-screen-like displays, there were also physical props strewn across the battlefield. There are 34 projectors and 14 screens, all different sizes (this is a 60,000 square foot building that houses the ride, theres plenty of room for gadgets). Once the battle is over everyone is speechless. Even those annoying kids. It was incredible - I can't tell you enough to go ride it. Sure, you'll have fun of other rides, but I can guarantee you will not have an experience similar to this anywhere else.
(This isn't our own video, but it is a good one. Just remember, no video does this ride justice)
No review can do this ride justice. You must try it yourself, I don't care if you don't like the movies or you don't speak English. High quality 3D projectors and 14 towering screens transcends all language barriers. The wait in line isn't
that
bad, its worth the wait.
You're inside the action, non stop, your senses are all overwhelmed, the line between reality and virtual space is blurred dramatically, and you literally just scream your head off for five whole minutes. It blew my mind. And that hasn't happened since I was introduced to apple sauce and cottage cheese.
Technical specs:Building size:
60,000 square feet

Height:
60 feet tall

Ride track:
2,000 feet

EVAC ride vehicle:
Carries 12 N.E.S.T. recruits

Screens:
14 oversized front projection, rear projection, flat and compound curved

Projectors:
34

Audio:
5,000 watts of power per ride vehicle
---
Comments
squs