TV TuneUp 3D Helps Dial-In Your 3D TV on Your iPhone or iPad
Posted by: Jesse on: 05/19/2012 06:00 PM [ Print | ]

---

Tweet

---
TV TuneUp is the first of its kind App available for the iPhone and iPad. This powerful app by Pixelsplincher is a must have a 3D geek like you! Get this utility from the App Store,
here
.
The developer describes this software perfectly: "Tune the projector before your presentation in a few easy steps, or compare 3D technologies on your next home theater system. Just connect to an HDMI, AirPlay, VGA or other video output and this app will give display test patterns with simple instructions for tuning your image.

Run TV TuneUp 3D in Executive mode, and you get a series of simple steps with clear instructions to perfect the picture on your projector or display.

In 3D mode, the app provides advanced tools for measuring the ghosting or crosstalk for a different combinations of displays and 3D glasses, for example. Use engineer mode to view a selection of standard test images matched to the resolution of your display. From NTSC from your iPhone's Analog Video Adapter, to full HD 1080p on your iPad's HDMI connector, TVTuneUp3D delivers pixel-perfect synthesized test patterns and industry-standard charts provided by top test-equipment manufacturer LYNX Technik.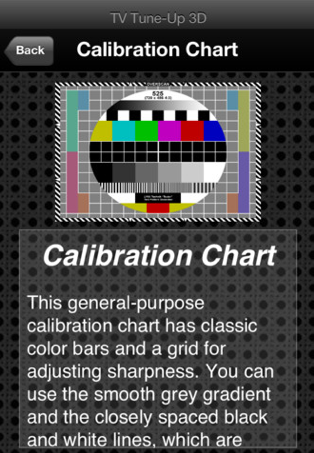 Get the most from 3D TV

Your iPad or iPhone can send a 3D picture to your 3D TV, and TV TuneUp 3D gives you the tools to find the best system, and get the most from it. Check the stereo alignment in either Top-and-Bottom or Side-by-Side stereo modes.

Use the crosstalk test to measure and minimize ghosting. Find the best glasses or compare the systems in the store before you invest, ghosting cannot be completely eliminated, but now you can reliably compare different systems, and even tune them to reduce the problem.

Tune up the seats! Use the parallax samples to to find try different levels of 3D effect. Make sure the seats are not too close or just verify that the 3D is working, no blu-ray DVD required. 
• Tune up your TV with a few simple steps
• Great with TV, projector, HDTV, 3D glasses
• Supports analog video, VGA, or HDMI adapters, and AirPlay video out
• Full access to all video modes for connected devices
• High-resolution, professional quality test patterns for standard displays
• Stereoscopic 3D test patterns for Alignment, crosstalk measurement, parallax samples
• 3D output in Side-by-Side, Top-and-Bottom, and mono formats
• Retina-ready universal app, optimized for iPhone and iPad."
---
Comments
squs