Want to spend $30,000 on a 3D TV? We found one for you!
Posted by: Jesse on: 05/09/2012 03:44 PM [ Print | ]

---

Tweet

---
I don't know about you, but I've been in the market for a $30k TV for a while now.
NOT!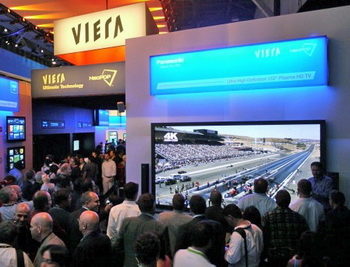 This insanely expensive Panasonic 3D TV (model name TH-85VX200U) is a massive 85". Its plasma display is crystal clear, and touts a contrast ratio of 5,000,000:1. You can control the television over LAN, too!
If you are rummaging your wallet for your credit card, here is a link to B&H Photo Video so you can purchase it.
Panasonic 85" TH-85VX200U Plasma Monitor TH85VX200U B&H
(Don't worry, 3Dgeeks already shopped it out for you - this same TV is $35,000 on eBay!)
Here are the details from the manufacture:
"The Panasonic 85" TH-85VX200U Plasma Monitor, with full HD high definition 3D support, delivers high quality images at a resolution of up to 1920 x 1080. It offers a native contrast ratio of 5,000,000:1, and a panel life of 100,000 hours.

With an aspect ratio of 16:9, the TH-85VX200U Plasma TV can automatically adapt to the input resolution of the incoming video signal. The Blue only mode switches off red and green scan guns to produce an image made only from a blue scan gun, and the monochrome mode displays a grayscale picture by disabling all colors. With color gamut feature, you can accurately represent a subset of colors in a given circumstance.

Equipped with the network function, the TH-85VX200U Plasma TV can be controlled over LAN. The built-in ISF day/night mode produces higher light output and contrast. In addition, the ISF mode allows users to configure horizontal and vertical sharpness, and standard and professional controls. Featured 1:1 pixel-to-pixel mode displays images in their native resolution by avoiding the monitor's internal scaling function.

The peak limit mode reduces the peak brightness level (image contrast) by 30%. In addition, the power save mode reduces the power consumption and auto power off enables you to switch off the monitor at a preset time. The TH-85VX200U Plasma TV offers screensavers such as negative image, overlay scrolling bar, scrolling bar only, and white screen in the idle state. It features 4 HDMI inputs, Ethernet support, and a single modular slot. Additionally, the plasma TV panel can be wall/ceiling mounted, and comes with a remote control transmitter."
---
Comments
squs