3D Box Shot v3 3.01
Posted by: Jesse on: 12/13/2012 12:27 AM [ 0 comment(s) ]
---
Boost your sales with the high quality box shots your products deserve. 3D Box Shot works great on Windows XP, 2000, NT, ME, 98 with a 600mhz CPU + OpenGL Compliant Graphics as a minimum specification. Simply load your artwork into the program and you'll have the perfect box shot in a few seconds.
3D Box Shot is a virtual packaging design tool. It transforms your artwork into a 3D box in real time using the full power of your PC's graphics hardware, allowing you to rapidly prototype your box designs. You can easily rotate, pan and zoom your box in real-time, which helps visualize the finished design and make better boxes. 3D Box Shot can then export high quality bitmap images of your box which can be edited for inclusion on your web site or in promotional literature.
With 3D Box Shot, you can turn your box image into a genuine sales tool. Unlike other box maker packages, 3D Box Shot can create big images as well as tiny thumbnails. As a result, you can make your box shot clickable and link to a full sized image. A well designed box can hammer home your sales message and help to secure the sale. Putting it simply, a quality box shot can improve your conversion rate. Because 3D Box Shot produces 3D box images dynamically in real time, we firmly believe it's the best way to make box shots.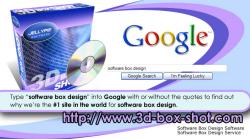 3D Box Shot comes complete with a series of box templates in a range of shapes and sizes. These include standard retail boxes, over slip boxes, Standard CD's, slim CD's, standard DVD cases and Slim DVD cases. If there's a different size box that you'd like us to include in the program please email us with the details.
---
Download Locations
Download Primary URL
[ 83 downloads |
Report broken link
]
Comments