3D Flash Slideshow Maker 5.00
Posted by: Jesse on: 12/14/2012 10:28 PM [ 0 comment(s) ]
Author: Company: flash-slideshow-maker.com | Downloaded:2309 times | Size: 22.83MB | Price: USD | OS: Win2000, Win7 x32, Win7 x64, Win98, WinVista, WinVista x64, WinXP
---
Flash Slideshow Maker is an easy-to-use and all-in-one dynamic 3D flash slideshow album creator to make animated 3D flash slideshows with SWF file as the output format. It transforms digital photo collection to Macromedia Flash file format (SWF) that you can share your memorial moments with family or friends on your webpage or blog. It can also burn flash slideshow to CD/DVD disc playable on computer or TV and save original photos on CD/DVD disc. Besides the functions above, it also supports created flash slideshow file uploading to the flash slideshow space, where you can show your beautiful flash slideshow.
With 3D Flash Slideshow Makerl, you can easily turn a folder full of still images into a dynamic 3D or other common flash slideshow album with background music and special transition effects. The 3D flash slide show software allows you to add nice looking animated and 3D slide shows to your website or blog easily. You can also use Flash Slideshow Maker Professional to make dynamic 3D or other common flash slideshow banner as the advertisement on your website.
Flash Slideshow Maker also supports other beautiful festival theme templates which you can use to make all kinds of festival slideshow album, such as Christmas slideshow, Thanksgiving slideshow, Hallowmas slideshow, New Year slideshow, Valentine's day slideshow, Birthday slideshow and so on.
Change Info:
(1)add some cool and beautiful Christmas theme templates;(2)add some dynamic 3D theme templatesd;(3)add some customable flash template; (3)Be compatible with CS5; (4)Add flexible and customizable flash theme templates
---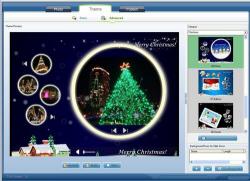 Download Locations
Download Primary URL
[ 1201 downloads |
Report broken link
]
Download Secondary URL
[ 1108 downloads |
Report broken link
]
Comments