3D Media Player 3.1
Contributed by: Jesse on: 09/28/2012 07:17 AM [ 0 comment(s) ]
Author: Company: Movavi | Downloaded:1047 times | Size: 28.9MB | Price: 14.95 | OS: Win2000, Win7 x32, Win7 x64, Win98, WinVista, WinVista x64, WinXP
---
Have you ever had trouble playing media files? Now you can play any video and audio. Movies, streaming online videos, your own footage – no matter what you want to watch, Movavi 3D Media Player will be sure to play it. Movavi 3D Media Player easily copes with almost all media formats and file containers.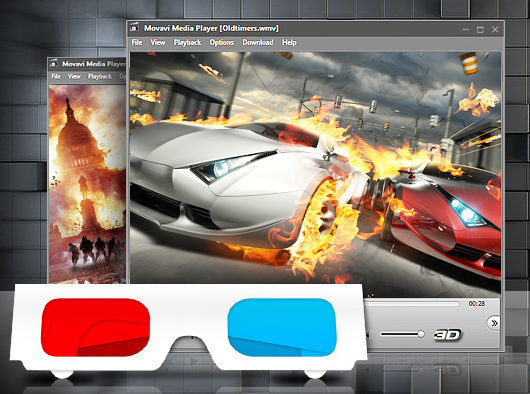 3D video.
Put on your anaglyph or NVIDIA 3D glasses and enjoy movies and cartoons in 3D.
AVI
(encoded with DivX, Xvid, H.264, DV, MJPEG or uncompressed). The most popular media format of the 20th century.
MKV
(.mkv). An increasingly popular format thanks to its higher compression, better quality, and smaller files.
MP4
(.mp4, .m4v – encoded with H.263, H.264, MPEG 4). The most common format used to store video for portable devices and now webstreaming.
Flash
(.flv). At one time the only format for YouTube and other video-sharing sites, Flash is now being gradually driven out by MP4 and other newer formats.
WMV
(.wmv, .asf). Microsoft's formats, naturally supported by Microsoft Media Player.
QuickTime
(.mov, .qt, .m4v, .mp4). Videos from and for your Mac.
3GP
(.3gp2, .3gpp, .3gp, .3g2). The most common format for videos shot with your cell phone.
HD video
(.m2ts, .mts, .tod, .wmv, .mpg, .mov). Cutting-edge high-definition video that uses a higher resolution than standard-definition (SD) video; most commonly used by HD video cameras (HDCAM, HDCAM-SR, DVCPRO HD, D5 HD, AVC-Intra, XDCAM HD, HDV and AVCHD) and delivered on Blu-ray Discs.
DVD
(.vob, .ifo). The old standards never quite fade away.
Watch 2D movies in 3D
You probably made some incredible videos this spring. But are they still in 2D? Even still in black and white? Just imagine if you could watch all your special moments the way you experienced them – we're working on it! When 2D is not enough, you need us to bring in the magic. It's not rocket surgery either – just put on your 3D glasses, drag three simple sliders to bring depth and perspective to your movie, and click Play!
---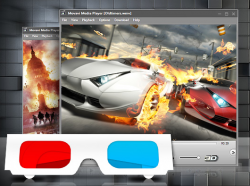 Download Locations
Download Primary URL
[ 1047 downloads |
Report broken link
]
Comments