3Doku (for Mac OS X) 1.8
Posted by: Jim on: 03/04/2013 04:42 PM [ 0 comment(s) ]
Author: Company: Simone Tellini | Downloaded:18 times | Size: 0.48MB | Price: USD 19.00 |
---
Are you addicted to Sudoku? Can you solve a Sudoku schema blindfolded with your hands tied behind your back?
Do you need more complexity? ...more challenge? ...more headache? ...more dimensions?
Try 3Doku!
3Doku brings the traditional Sudoku game to the third dimension. In a 9x9x9 cube, 27 Sudoku schemas intersect one another along the three axis. Every 9x9 bi-dimensional schema must be solved keeping in mind that every single cell belongs to the selected schema and also to the other two placed on the orthogonal planes.
With 4 difficulty levels and 4 initial values distributions you can customize your game and have every time a new exciting challenge to solve.
Change Info:
* Added an option to prevent from highlighting conflicting values with a red background (View -> Hide Conflicts). Hiding conflicts will make the game a lot harder, since it'll be easier not to notice an error and reach an impossible situation.
---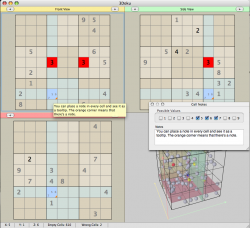 Download Locations
Download Primary URL
[ 18 downloads |
Report broken link
]
Comments