Posted by: Beth Snyder on: 05/24/2016 03:04 AM
We all know by now that before we throw away plastic six-pack rings we should cut them apart so animals won't choke on them, but that doesn't solve the problem of animals trying to eat them. Saltwater Brewery in Florida has taken a 3D-printed step toward fixing that problem with edible six-pack rings.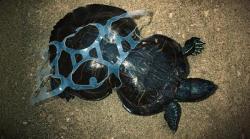 An astronomical quantity of plastic six-pack rings ends up in our oceans, even though it's been decades since photos like the one you see here started surfacing, showing how dangerous they are to wildlife. Most of us know to cut them apart before tossing them in the trash (I would hope), but obviously not everyone does it or it wouldn't remain such a large problem. And yes, those plastic rings are required by law to be made of photo-degradable plastic, but that plastic can take up to 90 days to start breaking down. Animals also tend to try to eat them as they float by in the water, and that can be as big or bigger of a problem than them ending up stuck inside one. That plastic cannot be digested by animals, so it just sits there, building up in their digestive tracts, and it ends up effectively starving them since there is no room for food.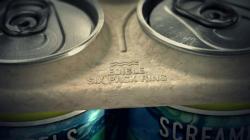 Saltwater Brewery is now marketing a product aimed specifically at those folks who spend their time drinking beer on or near the water: surfers, boaters, water skiers, etc., as well as seaside bars. That product is edible six-pack rings, which once they're done serving their purpose as beer can holders are biodegradable in water. Since they're made of brewing by-products (namely wheat and barley) they will do no harm to any animal that may try to eat them. They also serve the purpose of using up materials that would otherwise be cast off as waste, so they are doubling up on their environmental friendliness.

These new edible six-pack rings are 3D printed, which is why you're reading about them here. Saltwater teamed up with a New York-based agency called We Believers to develop the rings, and they are believed to be the world's first of their kind. They were digitally designed, and are strong enough to allow you to carry a six-pack of beer without fear of them breaking and you losing your brews. They initially printed a batch of 500 to hold Saltwater's flagship IPA, but they're working with manufacturers in Mexico with the intent of 3D printing 400,000 of them a month. They're also trying to get other craft breweries on board, with the idea that the little guy can, in fact, make a big difference in the world.





Right now, cost is a little high to produce these rings, which in turn raises the cost of a six-pack a little higher. But those who prefer craft brews tend to be willing to spend a little more for their favourite beverages, and the more breweries that agree to use them the lower the cost will fall. Add in the fact that using them will save countless thousands of marine animals' lives, and it's a pretty good bet we'll be seeing widespread use of them.

Source: 3Ders.org
Comments
Related Stories
Send a 3D Printed Replica of Yourself to Mom: Happy Creepy Mother's Day!
Mother's Day is this Sunday, and with that comes obligatory pampering, phone calls, flowers, jewelry, and visits. But what if you just can't swing a plane ticket this year? Groupon wants you to send...
Want To Make Your Own 3D Printed Millennium Falcon?
File this under, "Things We Didn't Know We Needed Until We Saw Them". Not only is this 3D design by Gambody incredibly detailed both inside and out, but the StereoLithography (STL) files ...
How 3D Printing Works by ElectroBOOM
Youtuber Mehdi Sadaghdar a.k.a ElectroBOOM is know for his occasional on screen electrical mishaps, quirky takes and minor explosions. Frankly, it's a wonder he survives some of his builds. Today, he...
3D Printed Steel Bridge Thinks Way Outside the Box
It seems virtually every day we hear of a new thing 3D printing can do, from providing a child with a new arm or one that even shoots glitter to giving a turtle or macaw new beaks to printing cartilag...
3D Printed, Superhero Inspired, Glittery 10-Year-Old Awesomeness
Jordan Reeves was offered a chance to create her own prosthetic arm through KIDmob's and 3D software company Autodesk's Superhero Cyborgs program in San Francisco, and she designed something that ju...
The Future is Now: Biopen 3D Prints Cartilage During Surgery
We've seen any number of 3D printed body parts for both animals and humans, but a team from St Vincent's Hospital, Melbourne, is taking us into the future with the Biopen, which can customize 3D pri...
3D Printed Digital Sundial
3D Inventor makes the first 3D Printed digital sundial. Here's how. ...
Get Your Jurassic On With 3D Printed Bathroom Accessories
Bathrooms are really hard to decorate. Other than your choice of towels and maybe a toilet seat cover, what can you really do? Maybe the answer is 3D Printed T-Rex accessories! ...
3D Printed Nearly Nude Selfies: Now I Truly Have Seen Everything
It seems the world is obsessed with the selfie. It was even named the word of the year in 2013! Now you can have a 3D printed model of your head added to one of three body types, in case you'd like t...
3D Printing Gives Macaw a New Lease on Life
Is there nothing 3D printing cannot do? This macaw's beak was severely damaged, leaving it unable to eat. Through 3D printing, it was given a new beak... and a new lease on life! ...