Posted by: Jesse on: 12/19/2012 04:30 PM
Finding a nice pair of glasses sucks. First you need a frame that fits your prescription, then you need to find a pair that looks good (and hopefully doesn't cost $500). But 3D printing has solved that problem!
Its actually really simple to make your own 3D printed glasses. You really just need the correct measurements and some design software (TinkerCad is easiest). Heres how its done...

Anne-Pieter Strikwerda: "One of the first steps you need to do is to find the right measurements. There is a very good website to guide you through this process." The one problem you may run into is finding an optician who will fit the lenses. "I was lucky to find a really helpful optician close to my home in Amsterdam."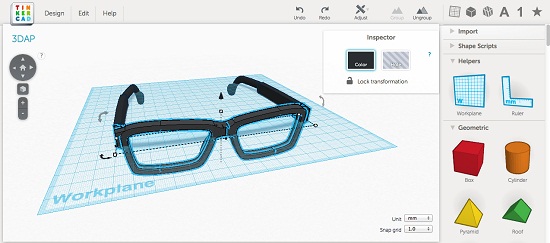 "The designing process was not too difficult. I adjusted Pekka's model with my measurements and printed it with the i.materialise service." Anne-Pieter wanted to make a prototype model so he chose to print it in multicolor, since it's the cheapest material and just costs 24 euros, shipping included. But, if you will be using the glasses day-to-day you should use a nylon-like material like polyamide. Multicolor is to fragile overall. "I decided to print it as one piece. But if you want to create glasses to wear, it's better to print three separate files (glasses + 2 handles)."

"My prototype arrived exactly two weeks after I placed my order. It looked super and fitted exactly: now I'm ready to go a step further and design a model in three pieces to wear every day."

How cool!
---
Comments
Related Stories
EFF looking for help to keep 3D Printing open.
Here's a chance to help The Electronic Frontier Foundation on an important project. ...
Huddle 3D Printed Lamp Looks like a Modern Cityscape
Want to know what one of my favorite 3D printed items are? Believe it or not - lamps....
3D Systems Expands Hearing Aid Production To Its Latest ProJet 3D Printer
3D Systems nnounced today the immediate availability of Dreve FotoTec hearing aid material for use in its best in class ProJet® 6000 professional 3D printer. ...
Staples Makes In-Store 3D Printing Service Ad - Totally Fails
Staples (the office supply store) rocked the world last wee when it announced it was going to offer an in store 3D printing service. So they made a video ad - and it SUCKS!...
Forbes Takes a Look Inside World's Largest 3D Printing Manufacturing Facility [Video]
Forbes got a tour of Shapeway's 3D printing manufacturing facility it New York, which is the largest in the world. The new factory opened this October and has been the buzz of the 3D printing communi...
3D Printed Fractal Patterns are 10,000 Times Stronger than Steel
What do blood vessels, snowflakes, cauliflower, clouds, and Superman all have in common? They are all stronger than steel!...
Get your 3D Printed Jewelry Here
Get yer 3D printed jewelry! Looking for that perfect stylish yet techy Christmas gift for your loved one (or yourself, lets face it). Try some 3D printed jewelry! ...
Japanese Company Makes 9 inch Tall 3D Prints of a Mini You
Ah yes, the classic family portrait. Starting with drawings, progressing into paintings, then beautiful sculptures, and ending with photographs... or does it? ...
IKEA Uses 3D Printers in it's R&D Department [Video]
Ikea is among the many cutting edge companies that are quickly adopting 3D printers for use in their research and development departments, totally streamlining the prototyping process. ...
Virginia Tech Makes DreamVendor, a 3D Printing Vending Machine @ Dvice
This innovative university used some creativity and 4 MakerBots to create a literal 3D printing vending machine. Could this be coming to a store near you? (watch out RedBox!)...