Posted by: Jim on: 03/08/2013 06:25 AM
Gracing the Ace Hotel in NYC last night, Dita Von Teese modeled a fully articulated 3D printed gown designed by Michael Schmidt and Francis Bitonti
Clearly this is not your everyday run of the mill, home-brew 3D print. The designers made are 17 custom pieces (mainly with their iPhone) that were printed by Shapeways. Those were dyed black and lacquered. Then 13,0000 Swarovski crystals were embedded into the dress and assemble to create a unique and awesome look.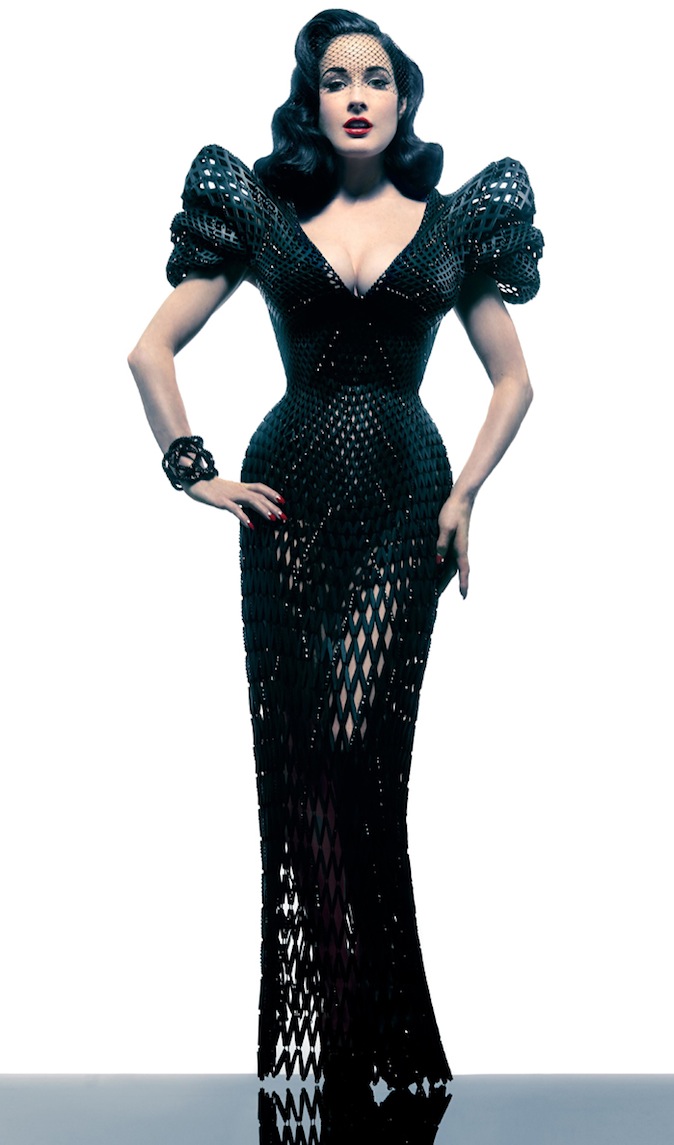 You can read more about the event at Shapeways

You can check out more Dita Von Teese @ her home page.
---
Comments
Related Stories
New Desktop 3D Printer Can Build Microscopic Structures in Minutes
Need to make a heart stent thats only a few nanometers thin, and only have a few minutes to do it? No problem, Nanoscribe has got your back....
NIKE Brings 3D Printing to a Football Cleat Near You
Nike Football just debuted the first-ever 3D printed football cleat that goes where no other shoe has gone before....
3d Printed AR15 lower -- that doesn't fail.
3D Printing, 600 rounds of assault weapons and ravel's bolero.. What's not to like. ...
Some Cool 3D Printing Ideas
Here's some neat things yo could do if you had a MakerBot. ...
How to Make a 3D Printed Object Smooth and Shiny
So you printed your really cool new invention, but the 3D printing process left your object grainy and awkward. Here is how to make it smoother than a baby's bottom....
3D Printed Robot.
Want to print a fully working 3D rRobot at home?...
Wired Mag is having a 3D Print-Off
So grab your makerbot, sketchup, a few bottles of 5 hour energy and get your geek on. ...
3D Printing Revolution: the Complex Reality @ Make
Make takes a look at today's 3D printiing pro and cons as well as what the future might bring. ...
Repairing a Sandstone Step with a 3D Printer and Legos
This is one of the most creative uses for a 3D Printer I've ever seen. ...
Kissing Booth Brings Love to 3D Printing Geeks
Can't think of anything to get your sweat heart on Valentine's day? Try Hot-Pop Factory, a 3D Printed Jewelry company that ...