Posted by: Jim on: 02/10/2015 11:02 PM
Queensland Police arrested a 28-year-old Mudgeeraba man was arrested on drug and weapons charges and now may face additional charges based on Police finding 3D printed gun parts.
With the price of 3D printers coming down and the rather easy availability of 3D gun plans that can be downloaded on the Net, people should be aware of local legislation before even thinking about attempting their own build.

Quote:"Detective Inspector Scott Knowles of the Major and Organised Crime Squad commented on the 3D printed parts saying that people using weapons created through this process risk serious injury to themselves and others.

"With weapons and parts manufactured this way still being classified as a firearm under current legislation, people can also see themselves before the courts for manufacturing and possessing these items," Detective Inspector Knowles said."

Along with the other illegal assets seized, it seems this miscreant also 3D Printed a set of "brass" knuckles. Frankly, that doesn't sound that scary. I'd have rather spent my time making a Brass Knuckle can holder or Pizza Cutter. However, if you really want to do "Plastic" Knuckles right --- add spikes!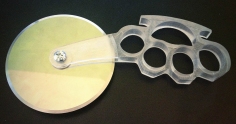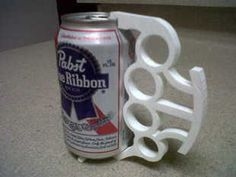 ---
Comments
Related Stories
Chinese company uses massive printer to 3D print five-storey apartment building
A high- tech construction company out of China has achieved the honor of being the first to construct an entire five-storey apartment building along with an 11,840 square foot villa via a 3D printer. ...
3D Printing Stocks Had a Terrible 2014
2014 was not a kind year to 3D printing stocks according to The Motley Fool. 3D Systems, Stratasys, ExOne, Arcam, voxeljet, and Materialise significantly under-performed the S&P 500, which returne...
Made In Space Announces the First Off World 3D Printer to Launch August 2014
Made In Space's 3D printer, specially designed for use on the International Space Station (ISS), http://www.madeinspace.us/3d-printer-headed-space-station-ready-launch...
Mark One 3D Printer by MarkForged Prints Carbon Fiber, Fiberglass, Nylon, and PLA
Got a great idea to make with a 3D printer, but that cheap, soft PLA just isn't cutting it? Check out the Mark One, a new professional desktop 3D printer that can handle anything you throw at it... e...
Stratasys Releases The World's First Color Multi-material 3D Printer
The new Objet500 Connex3 from Stratasys Ltd. (NASDAQ: SSYS), a an amazingly 3D printer, that uses a triple jet technology that can mix 3 colors in to upwards of 45 colors - in a single print. The Conn...
Puppy Gets 3D Printed Bone in Life Saving Surgery
One of the most exciting aspects of 3D printing technology is the versatility. Not only can we manufacture guns, meat, and aeronautical parts, the Auburn University College of Veterinary Medicine has ...
Proto-Pasta Carbon Fiber PLA Filament for 3D Printers Available for Pre-Order Now
Sadly, no, Proto-Pasta does not make the infamous pasta filament for Google's 3D Pasta Printer. But, they do make something just as cool: carbon fiber infused PLA filament that works in any 3D pr...
3D Printed Macedonia Space Divider by Freshfiber
Theese intricate, only-possible-with-3D-printing panels make an incredible space divider, railing, or whatever else you would dream up....
Willy Wonka Didn't See This Coming: 3D Printed Candy
Nope, I'm not kidding. 3D printing giant 3D Systems just launched the ChefJet 3D printer at CES 2014, which allows users to make tasty sugar cubes in any shape imaginable. ...
Motorola Hires 3D Systems to Create Modular 3D Printed Smartphones
3D Systems and Motorola have teamed up in whats being called a "multi-year development agreement" to make an all-out 3D printing manufacturing system for Motorola's "Project Araâ