Posted by: Beth Snyder on: 05/10/2015 11:28 PM
3D printing is increasingly popular for many items, but what they all have in common is being made of non-biological materials. The folks at BioBots are looking to change that, and have begun experimental printing of living human tissue. Science is equal parts fascinating and frightening sometimes, isn't it?
It's not exactly a new idea, as scientists have been trying to print replacement body parts since before 3D printing became so mainstream. But what has mostly been successful at this time is synthetic parts such as joints. BioBots thinks they have a workable way to print viable living body parts and tissues using a combination of living cells and a specially engineered ink, all while using a small, relatively inexpensive machine rather than the giant, hideously expensive ones currently employed.

The ink is what makes the difference between what BioBots is doing and what other companies are working on. Their ink uses "photoinitiator powder" which solidifies when hit with a specific wavelength of blue light, and which allows them to create structures without the standard methods of UV light or pressure. This in turn allows their printed structures to use living cells, since they won't be harmed in the printing process.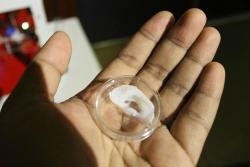 What you see here is a 3D printed ear. It's rudimentary right now, but it can theoretically be attached to a human's head and grow into a healthy, living ear to replace one that's been removed. And since it's done with 3D printing, the cost is thousands if not hundreds of thousands of dollars cheaper, potentially making it affordable for everyone regardless of income level or insurance coverage.

There is a long way to go in this process (BioBots is currently working with medical researchers to perfect their process), but several prototypes have already been produced. I would imagine there will be a great deal of red tape and regulations to work through before 3D printed body parts become available to all, but it is going to happen at some point. And I think that's a good thing... even though it does creep me out a little.
Comments
Related Stories
Retouch3D Fixes 3D Printing Mistakes
Not all 3D printers turn out perfect products, but Retouch3D offers a way to fix those annoying little glitches that can ruin a finished object....
3D Printing Can Change a Life
Not only is 3D printing changing the way we conduct our everyday lives, it is making a world of difference for people such as Faith, who just received her custom-3D-printed cool new pink and purple ar...
3D Printing Helps Violet Get a New Face
2 year old Violet Pietrok was born with http://en.wikipedia.org/wiki/Facial_cleftTessier cleft which left he several deformed. ...
Cheesy 3D Printing Fun
You've seen 3D printers that print chocolate or other foods, right? Now there's a "printer" that uses Easy Cheese, and it's fabulous. ...
3d Printing with DAP silicon? Yup, you can do that.
The folks over at Structur3d Printing are starting up a video blog called GET PAST3D. In the first episode they show you how to get started tweaking your printer to use silicon to make a snazzy lookin...
MarkForged Takes 3D Printing to the next Level with the Mark One
Looking for the rapid prototyping of 3D Printing but plastics just won't hold up for your use? Check out what MarkedForged has come up with. ...
3D Printed Gun Parts Found in Australian Drug Raid
Queensland Police arrested a 28-year-old Mudgeeraba man was arrested on drug and weapons charges and now may face additional charges based on Police finding 3D printed gun parts. ...
Chinese company uses massive printer to 3D print five-storey apartment building
A high- tech construction company out of China has achieved the honor of being the first to construct an entire five-storey apartment building along with an 11,840 square foot villa via a 3D printer. ...
3D Printing Stocks Had a Terrible 2014
2014 was not a kind year to 3D printing stocks according to The Motley Fool. 3D Systems, Stratasys, ExOne, Arcam, voxeljet, and Materialise significantly under-performed the S&P 500, which returne...
Made In Space Announces the First Off World 3D Printer to Launch August 2014
Made In Space's 3D printer, specially designed for use on the International Space Station (ISS), http://www.madeinspace.us/3d-printer-headed-space-station-ready-launch...