Posted by: Jesse on: 01/21/2014 04:18 PM
Theese intricate, only-possible-with-3D-printing panels make an incredible space divider, railing, or whatever else you would dream up.
The designer, Janne Kyttanen, describes the Macedonia below:

"Intricate Macedonia panels create a unique and beautiful feature in exterior and interior spaces. The Macedonia Space Divider system is a modular system which allows flexibility and freedom."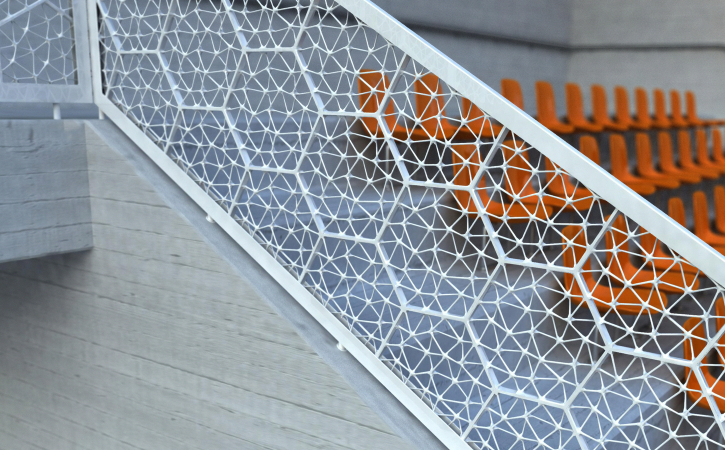 The only issue is these panels are price per square meter, with a minimum order of 15 square meters. I really hope the price of $350 a square meter is a mistake!

Buy the Macedonia Space Divider on Cubify.com
---
Comments
Related Stories
Willy Wonka Didn't See This Coming: 3D Printed Candy
Nope, I'm not kidding. 3D printing giant 3D Systems just launched the ChefJet 3D printer at CES 2014, which allows users to make tasty sugar cubes in any shape imaginable. ...
Motorola Hires 3D Systems to Create Modular 3D Printed Smartphones
3D Systems and Motorola have teamed up in whats being called a "multi-year development agreement" to make an all-out 3D printing manufacturing system for Motorola's "Project Araâ
3D Systems Partners with NOOKA Timepieces to Create Custom 3D Printed Watch Bands
If you like custom 3D printed shenanigans, you've come to the right place. These new watchbands are made just for you, and paired with your favorite Zub 40 timepiece from NOOKA and courtesy of 3D...
GE Scientists Want You to Design a 3D Printed Sleigh for Santa
Christmas is coming, and Santa can't be without the latest and greatest upgrades to his sleigh. Not only that, wouldn't it make sense that Santa would stay with the times and have it 3D printed? I'...
Digital artist creates 3D printed voice sculpture of Obama speech
French digital artist Gilles Azzaro says that he "transforms invisible and intangible recordings into something solid and tangible," better said he makes sounds that you can see. The inspi...
Here a Less Lethal 3D Printed Gun Idea.
...
Solid Concepts manufactures the world's first 3D Printed Metal Gun.
Solid Concepts, a 3D Printing and prototyping service in Austin TX, announced they have made the world's first 3D Printed Metal Gun using a process called DMLS Direct Metal Laser Sintering. This...
How to Make a 3D Printed Bearing.
Emmett Lalish show off his design of a fully assembled 3D printed bearing. ...
3D Printers for Peace
Michigan Tech's Department of Materials Science and Engineering is looking to take the focus of 3d printing from guns to peace. ...
Doodle3D Easy 3D Printing Software Gets Successful Funding on Kickstarter
Doodle3D was developed by a couple guys in the Netherlands who had a couple 3D printers, but didn't actually know how to draw anything in 3D....