Posted by: Jim on: 01/12/2015 12:02 PM
2014 was not a kind year to 3D printing stocks according to
The Motley Fool
. 3D Systems, Stratasys, ExOne, Arcam, voxeljet, and Materialise significantly under-performed the S&P 500, which returned 11.54% excluding dividends in 2014.
In their opinion, the reasons are:

1. Sky-high valuations - Everyone thought this new tech would pay off right away.
2. Disappointing earnings - Most companies missed their targets.
3. Changes in sentiment - Sort of relates to reason #1 and #2. All of a sudden they are telling people to run away.
4. Increasing competition - The big boys like HP are now in the game.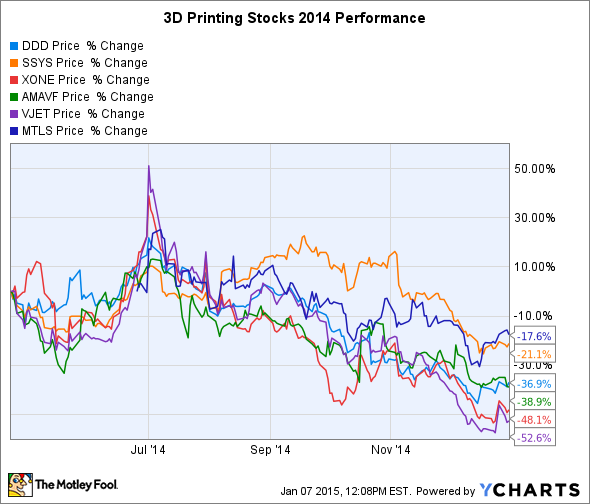 From here, Fool recommends holding onto your stock and monitoring underlying businesses which should give you an idea of what to expect in your stock.

Comments
Related Stories
Made In Space Announces the First Off World 3D Printer to Launch August 2014
Made In Space's 3D printer, specially designed for use on the International Space Station (ISS), http://www.madeinspace.us/3d-printer-headed-space-station-ready-launch...
Mark One 3D Printer by MarkForged Prints Carbon Fiber, Fiberglass, Nylon, and PLA
Got a great idea to make with a 3D printer, but that cheap, soft PLA just isn't cutting it? Check out the Mark One, a new professional desktop 3D printer that can handle anything you throw at it... e...
Stratasys Releases The World's First Color Multi-material 3D Printer
The new Objet500 Connex3 from Stratasys Ltd. (NASDAQ: SSYS), a an amazingly 3D printer, that uses a triple jet technology that can mix 3 colors in to upwards of 45 colors - in a single print. The Conn...
Puppy Gets 3D Printed Bone in Life Saving Surgery
One of the most exciting aspects of 3D printing technology is the versatility. Not only can we manufacture guns, meat, and aeronautical parts, the Auburn University College of Veterinary Medicine has ...
Proto-Pasta Carbon Fiber PLA Filament for 3D Printers Available for Pre-Order Now
Sadly, no, Proto-Pasta does not make the infamous pasta filament for Google's 3D Pasta Printer. But, they do make something just as cool: carbon fiber infused PLA filament that works in any 3D pr...
3D Printed Macedonia Space Divider by Freshfiber
Theese intricate, only-possible-with-3D-printing panels make an incredible space divider, railing, or whatever else you would dream up....
Willy Wonka Didn't See This Coming: 3D Printed Candy
Nope, I'm not kidding. 3D printing giant 3D Systems just launched the ChefJet 3D printer at CES 2014, which allows users to make tasty sugar cubes in any shape imaginable. ...
Motorola Hires 3D Systems to Create Modular 3D Printed Smartphones
3D Systems and Motorola have teamed up in whats being called a "multi-year development agreement" to make an all-out 3D printing manufacturing system for Motorola's "Project Araâ
3D Systems Partners with NOOKA Timepieces to Create Custom 3D Printed Watch Bands
If you like custom 3D printed shenanigans, you've come to the right place. These new watchbands are made just for you, and paired with your favorite Zub 40 timepiece from NOOKA and courtesy of 3D...
GE Scientists Want You to Design a 3D Printed Sleigh for Santa
Christmas is coming, and Santa can't be without the latest and greatest upgrades to his sleigh. Not only that, wouldn't it make sense that Santa would stay with the times and have it 3D printed? I'...