Posted by: Jesse on: 01/25/2013 02:53 AM
Designed buy Cubify artist Olaf Diegel 'The Americana' was inspired by his love for New York City
Olaf's embedded the details of New York City's landmarks inot a Les Paul style body complete with bold stars and stripes. The Head and neck are made of wood,(maple, it looks like). The Guitar will be on display to the public for the first time along with 3D Systems' award winning Cube® 3D printer and Cubify apps at the National Association of Music Merchants Show, NAMM, in Anaheim, CA, January 24-27, 2013.

---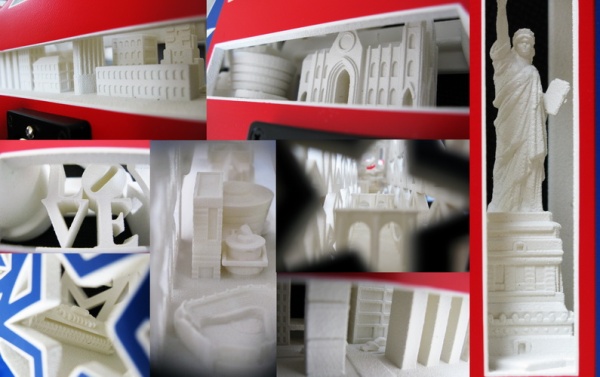 ---

The Americana joins the rest of Olaf Diegel's guitar collection on Cubify.com and is available for purchase today for a mere 4 grand. http://cubify.com/store/creation.aspx?reference=W5H6GALW1S Interested musicians and enthusiasts are invited to work directly with Olaf to customize their preferences including a range of pick-ups and necks to choose from.

"We are thrilled to unveil the Americana guitar, a real American masterpiece celebrating our passion for music, country and 3D printing at the NAMM Show along with our entire consumer 3D experience," said Cathy Lewis, CMO of 3D Systems. "We invite attendees, music brands and developers to experience Cubify, a secure hosting, publishing and production platform, and introduce the 3D lifestyle to their audiences."

At NAMM, 3D Systems invites music brands, retailers and artists to learn how to monetize their intellectual property and creativity on Cubify.com. The company plans to demonstrate its consumer 3D lifestyle experience including at-home 3D printers, electronic and fashion accessories and customization apps.

---
---
Comments
Related Stories
3D Systems Expands Hearing Aid Production To Its Latest ProJet 3D Printer
3D Systems nnounced today the immediate availability of Dreve FotoTec hearing aid material for use in its best in class ProJet® 6000 professional 3D printer. ...
3D Systems Corporation Reports Record Quarterly Revenue and Gross Profit Margin
Record Quarterly Revenue and raises estimates. ...
3D Systems' VisiJet Jewel Automates Jewelry Manufacturing
Cast your bling at home. ...
3D Systems' New ProJet 5000 Delivers Large Format Precision Plus Speed
3D Systems Corporation announces the new ProJet™ 5000 large format professional 3D printer. ...
3D Systems' Cube® Home 3D Printer Named Cool By Stuff Magazine
3D Home printing... I want one. ......