Posted by: Jesse on: 11/26/2013 01:49 AM
If you like custom 3D printed shenanigans, you've come to the right place. These new watchbands are made just for you, and paired with your favorite Zub 40 timepiece from
NOOKA
and courtesy of
3D Systems
.
Of course, they are limited edition, and are "one of the first hybrid accessories lines to pair the freedom of creation of 3D printing with high quality fashion."

These watches combine the technology of the future with the look of the future. The 3D printed bands are fused into shape by high powered lasers from the Death Star, one layer at a time. Each band is created from an individually unique file and dyed in a small batch, using high quality fabric dyes.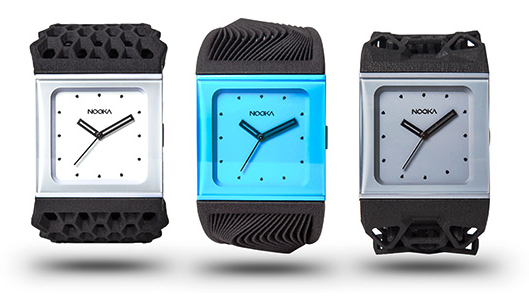 About NOOKA Watches:
NOOKA is a New York fashion design company founded by artist/designer Matthew Waldman. The ethos of NOOKA is universal language, which guides the creation of products with enhanced functionality and a technoprogressive philosophy. NOOKA delivers the revolution in interface design to lifestyle—MINDSTYLE™—optimism, progress, our future. We believe the future should not look like the past.





Be ahead of time with the NOOKA limited edition collection of interchangeable 3D printed bands and accessories for the Zub 40 line. Head over to Cubify to see their special page and build your watch, starting at just $99!
---
Comments
Related Stories
3D Systems Americana Guitar wins best in show at NAMM.
National Association of Music Merchants (NAMM)is THE yearly trade show dedicated to everything music, and somehow 3D Printing stole the show. ...
3D Systems announced today that it has acquired COWEB
With plans to integrate the COWEB figurine business into the Cubify platform. ...
3D Systems announces a new, one-of-a-kind 3D printed guitar, the Americana.
Designed buy Cubify artist Olaf Diegel 'The Americana' was inspired by his love for New York City ...
3D Systems Expands Hearing Aid Production To Its Latest ProJet 3D Printer
3D Systems nnounced today the immediate availability of Dreve FotoTec hearing aid material for use in its best in class ProJet® 6000 professional 3D printer. ...
3D Systems Corporation Reports Record Quarterly Revenue and Gross Profit Margin
Record Quarterly Revenue and raises estimates. ...
3D Systems' VisiJet Jewel Automates Jewelry Manufacturing
Cast your bling at home. ...
3D Systems' New ProJet 5000 Delivers Large Format Precision Plus Speed
3D Systems Corporation announces the new ProJet™ 5000 large format professional 3D printer. ...
3D Systems' Cube® Home 3D Printer Named Cool By Stuff Magazine
3D Home printing... I want one. ......