Posted by: Jesse on: 01/18/2014 04:51 PM
3D Printing is getting huge. So huge, in fact, that people are realizing the need for other devices to support 3D printing. This is where 3D scanners come in.
3D scanning, like many "new" devices that have been coming out, is not a new idea. The biggest issue with 3D scanning has been that a scanner itself - with all its crazy lasers and gyros and stuff - can be crazy expensive. Creaform's GoScan, which was released just last year, is $25,000.

3D Systems has other ideas. They have launched a professional quality product for an incredible price: the Sense 3D Scanner, for only $399.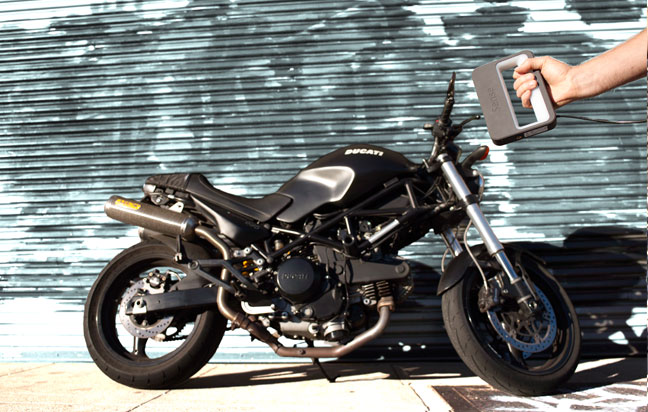 This handheld 3D scanner brings a world of hurt to MakerBot's recently released desktop 3D scanner called the Digitizer (which is wicked expensive at $1000, relatively). Even the cheapest 3D scanner we know of, Rubicon, is $199... but thats still desktop only.

Sense can scan an area up to 10 feet cubed. You can scan small stuff too. Kids favorite toy broke and you need a new one? Got it. Want to see how your car looks with different wheels? Yep. Want to scan your friends face to make him look like Pinocchio? Of course!

Theres not much more I can say. For the price, this is an amazing tool. Oh yeah, you get a 1 year warranty and you can buy it right now. Take that, Kickstarter projects!

See all the info at Cubify.com
---
Comments
Related Stories
Motorola Hires 3D Systems to Create Modular 3D Printed Smartphones
3D Systems and Motorola have teamed up in whats being called a "multi-year development agreement" to make an all-out 3D printing manufacturing system for Motorola's "Project Araâ
3D Systems Partners with NOOKA Timepieces to Create Custom 3D Printed Watch Bands
If you like custom 3D printed shenanigans, you've come to the right place. These new watchbands are made just for you, and paired with your favorite Zub 40 timepiece from NOOKA and courtesy of 3D...
3D Systems Americana Guitar wins best in show at NAMM.
National Association of Music Merchants (NAMM)is THE yearly trade show dedicated to everything music, and somehow 3D Printing stole the show. ...
3D Systems announced today that it has acquired COWEB
With plans to integrate the COWEB figurine business into the Cubify platform. ...
3D Systems announces a new, one-of-a-kind 3D printed guitar, the Americana.
Designed buy Cubify artist Olaf Diegel 'The Americana' was inspired by his love for New York City ...
3D Systems Expands Hearing Aid Production To Its Latest ProJet 3D Printer
3D Systems nnounced today the immediate availability of Dreve FotoTec hearing aid material for use in its best in class ProJet® 6000 professional 3D printer. ...
3D Systems Corporation Reports Record Quarterly Revenue and Gross Profit Margin
Record Quarterly Revenue and raises estimates. ...
3D Systems' VisiJet Jewel Automates Jewelry Manufacturing
Cast your bling at home. ...
3D Systems' New ProJet 5000 Delivers Large Format Precision Plus Speed
3D Systems Corporation announces the new ProJet™ 5000 large format professional 3D printer. ...
3D Systems' Cube® Home 3D Printer Named Cool By Stuff Magazine
3D Home printing... I want one. ......