Posted by: Beth Snyder on: 04/29/2016 10:41 PM
Anybody can serve plain, boring round pancakes for breakfast. But PancakeBot wants to jazz it up so you can eat your favourite character or playful shape, to add some fun to your plate.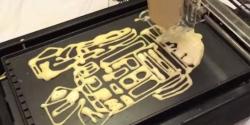 Miguel Valenzuela is a Norwegian civil engineer who spends most of his time designing and building robots, but he debuted his PancakeBot 3D Food Printer at the 2013 World Maker Fair in New York and got a lot of attention. Who wouldn't want their own custom creations slathered with butter and swimming with syrup? In fact, his invention garnered so much attention he revamped it several times, until he produced the PancakeBot you see today. Who knew an idea inspired by a three-year-old girl would gain such recognition?

The thing that sets this apart from other pancake creators is the 3D printing aspect. Each PancakeBot comes with a nonstick electric griddle that will cook your creation to perfection with a removable probe, a BPA-free batter dispenser, a recipe book and quick pancake-designing guide to get you started, and the software to take any image from your computer and print it in 3D pancake batter glory. The images you choose can be loaded directly onto PancakeBot with an SD card.



Check out the video to see PancakeBot in action!




Now that the hard part has been done (e.g. the design and manufacture as well as a successful Kickstarter campaign), you can purchase a PancakeBot for your very own for just $300.00 US with free shipping to all 50 states! The sky is really the limit as far as what designs you choose to use, although obviously some images will lend themselves to being transformed into golden brown fluffy goodness better than others. The unit itself measures 25.8 x 13 x 17.5 inches and weighs just over nine pounds.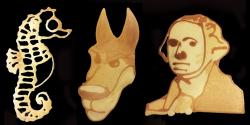 Now I really want pancakes.

Source: HiConsumption
Comments