Posted by: Beth Snyder on: 05/20/2015 02:07 PM
The medical field has benefited from 3D printing in ways that are sometimes hard to imagine, but the advances in technology are not limited to helping humans... Animals can reap the benefits as well.
The Dalyan Iztuzu Pamukkale University (PAU), Sea Turtle Research, Rescue and Rehabilitation Center recently received a sea turtle that was in serious need of some help. It seems the poor thing was hit by a boat propeller off the coast of Turkey, and as a result its beak was shattered, leaving it not only defenseless but unable to eat. It was found floating in the water, on the verge of death.

The researchers at the University gave it medical attention and fed it by hand to bring it back to life, but without a beak it was impossible to release it back into the wild, which is always their ultimate goal. BTech, a 3D printing company, was called in to create a new jaw for the turtle, in hopes it could return to its normal habitat.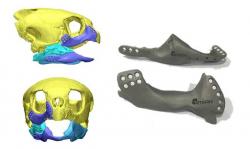 BTech had plenty of experience making human implants, but they had to get creative for the turtle's beak. They started by performing CT scans, and then turning those into 3D models. They then consulted with surgeons and veterinarians to recreate the turtle's upper and lower jaws using materials strong enough to replace its natural beak as well as being able to perform its normal movements. Eventually, after a long surgery, the turtle's new 3D printed beak was in place, and appears to be working well. It will still be a while before it can be released as it is still being given antibiotics and learning to use its new beak, but they do plan to release him as soon as he's completely healed and adjusted.

The video below is in Turkish, but it's easy enough to follow what's going on without understanding what is being said. It is amazing to me that technology has advanced to such a level that we can print body parts to replace broken or missing ones, and I'm thrilled there are those helping our animal friends as well as humans with it.





Source: Treehugger


Comments