Posted by: Beth Snyder on: 05/19/2015 12:50 PM
New makeup formulas require testing to ensure they won't cause rashes or worse, but testing on animals is not a good option for a wide variety of reasons. L'Oreal is now using 3D printing technology to have their makeup and test it, too.
Way back in the 1980's, L'Oreal began reconstructing the human epidermis in hopes of testing their products in a safe yet effective way. But it wasn't until the advent of 3D printing that it really became a viable option for true testing techniques. They are now producing 130,000 reconstructed tissue samples each year at their facility in France, which are then used to test new products or new formulas of existing products to ensure those products don't cause issues once they reach the retail market.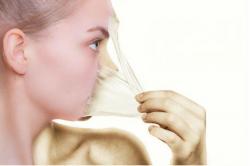 The thing about makeup and other skin products is they have great potential for harm. Allergic reactions can be quite severe, causing at best a rash and at worst a permanent disfigurement. There is a limit to how much testing in a lab can do before the products really need to be tested on skin. As you would expect, there are a great number of rules regarding testing on humans, so in the past these products were tested on animals. Some companies still do animal testing, but it's becoming increasingly unpopular as more and more people become aware of how cruel it is.

L'Oreal has teamed up with San Diego-based Organovo, using its NovoGen Bioprinter to reconstruct human skin layer by layer, ensuring each layer is comprised of the correct cell types and density at whatever dimensions are required to test the product. This 3D printed skin then acts as natural human skin would without the risks associated with testing on animals or people. It's a huge leap forward for both humans and animals in the quest for safe and effective products without the dangers of testing them.

Source: Gizmag
Comments