Posted by: Jim on: 01/03/2013 07:03 PM
Remember the super-accurate 3D motion controller that stunned the world last May? Yeah, thats Leap, and they have now made a historic partnership...
Thats right, ASUS is embracing this revolutionary new interface. As the world's most accurate 3D motion-control technology, this partnership is the jealousy of the technology giants.

The Leap Motion controller will be bundled with new premium All-in-One Computers and High-End Notebooks using Intel's Haswell Platform.

ASUS is one of the world's largest consumer notebook vendors and the maker of the world's best-selling and most award-winning motherboards. The ground-breaking partnership brings the future of computer interaction—Leap Motion's incredibly fast and accurate natural user interface—to millions of potential consumers around the world.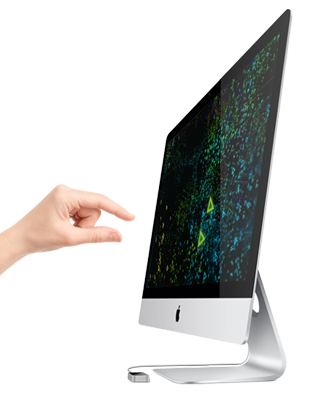 It should make for a super-cool user experience, as the controller will be built-in to the computer. No external hardware here! (unlike the picture above)

"As OEMs adopt 3D motion control technology, they're spurring a rapid evolution in computer interface innovations and helping free the full power and potential of computing for consumers," said Leap Motion co-founder and CEO Michael Buckwald. "This historic partnership with ASUS is an important step in building global adoption of the new computing paradigm Leap Motion's technology offers. We're delighted that ASUS shares our outlook on the future of human/computer interaction."

In May 2012, Leap Motion revealed its technology and controller to huge global excitement, with its introduction video garnering more than 7 million views. More than 40,000 developers worldwide have requested to work with Leap Motion, and the company has sent out 12,000 free units to developers to foster the creation of new applications. Pretty crazy eh?

To see all the details about Leap, check out our original article about this revolutionary product. Pre-order it now for $70!
---
Comments