Posted by: Beth Snyder on: 04/04/2016 12:25 AM
Prosthesis devices have been around for decades, and the technology improves each year to the point where they are lifelike and can function almost as well as a natural limb. But what about those who still have all their parts, but need help using them?
A while back, a 33-year-old man sought help from the Wroclaw University of Technology in Poland, because he had partial paralysis in his hand and couldn't do many of the things we all take for granted. Of particular concern to him was his inability to hold dumbbells to exercise or to play table tennis - his favourite sport - because he was unable to grip the paddle. Eliza Wrobel led a team of researchers to create an orthosis that would solve not just those two problems, but all others involving gripping objects.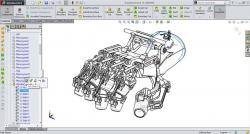 First, they took a plaster cast of his hand, then used it to create a detailed 3D model. That model was then used as a guide when they started designing the orthosis in CAD, hoping to create something that would allow him to grip various objects. They needed something that was sturdy and durable enough to stand up to everyday use, but also light and comfortable enough that it wouldn't damage his hand inside when wearing it. They quickly settled on 3D printing as the perfect combination of strength and comfort.

The main part was termed the husk, which is the part that fits snugly around his wrist. They then designed smaller parts to support his fingers, with a series of lever mechanisms integrated within to mimic his joints and allow them to move normally. There is a single lever on the back of the hand which is used to make all the smaller levers work together to grip objects. In all, the orthosis ended up having over 70 different parts, all working together to help his partially-paralyzed hand function normally.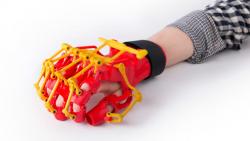 Not all the parts were 3D printed, but by far the vast majority of them were. They used a Zmorph hybrid 3D printer with different coloured ABS filaments, and according to the team the finished product is strong enough for him to use during physical activities. This particular orthosis was a one-off custom build, but the team is confident they'll be able to apply what they learned with this one to create similar orthosis for other patients with similar issues. Their hope is to eventually add this to the rehabilitation arsenal in common use, thus significantly improving the daily lives of paralysis patients or others who have trouble controlling their hands.

Source: Gizmag
Comments