Posted by: Jim on: 01/05/2013 05:33 PM
I'm doubting it would be for an epic alien battle through the semi destryed confines of It;s a Small World, but one could hope.
Disney recenty applied for a patent for VIRTUAL LENS-RENDERING FOR AUGMENTED REALITY LENS

"Techniques for displaying content using an augmented reality device are described. Embodiments provide a visual scene for display, the visual scene captured using one or more camera devices of the augmented reality device. Embodiments adjust physical display geometry characteristics of the visual scene to correct for optimal projection. Additionally, illumination characteristics of the visual scene are modified based on environmental illumination data to improve realism of the visual scene when it is displayed. Embodiments further adjust display characteristics of the visual scene to improve tone mapping output. The adjusted visual scene is then output for display on the augmented reality device."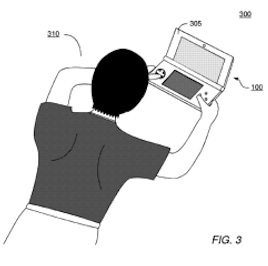 Looking at the patent image, the design is similar to a Nitendo 3DS - but would require glasses for use. However, the patent looks more geared to augmented reality which would lend itself to something like having Mickey and friend enter your family photo or interact with whatever current environment you are in. Similar to what Disney did in Times Square a year or so ago, but with a 3D feel.





---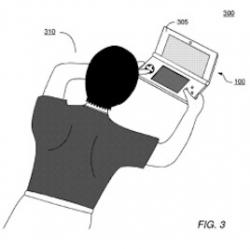 Comments