Posted by: Jesse on: 01/30/2013 05:29 PM
A Dutch company has created a fully functioning Macbook Pro Retina with a glasses-free display. The system uses an attached lens on top of the screen that you don't notice in regular use.
The company is Dimenco, and lens is the same sort of lenticular technology used in the Nintendo 3DS. The permanently attached film is less than 3mm thick so you won't notice it. This means that you don't need any silly 3D glasses or special eyewear to see in 3D!

The MacBook Pro Retina 3D also uses face tracking. The FaceTime camera tracks the movement of the user's head and corresponds the 3D image to the position of the viewer. This means the 3D experience will be smooth and seamless, but not viewable by more than one person at a time. No big deal if its your personal laptop, though.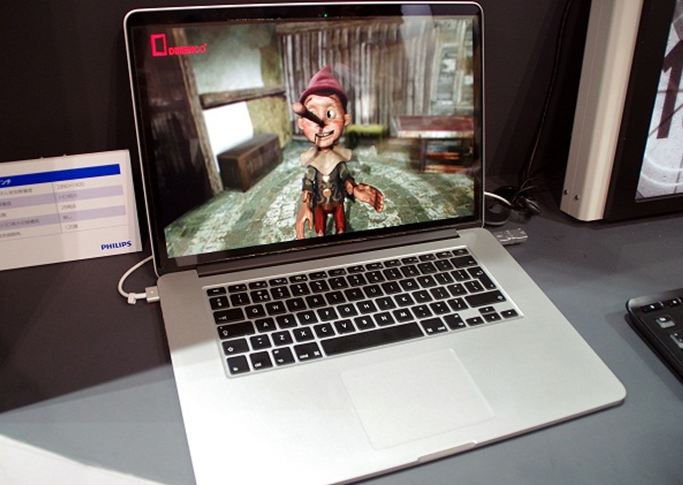 You can also use the Macbook in normal 2D. Just push a button and shazam!

Of course, this has not been released for consumer purchase (yet...). Check out Dimenco's Facebook and website for updates on the project.
Comments
Related Stories
Dolby No Glasses 3D First Look - CES 2013
Dolby and Phillips introduced a proof of concept glasses free 3D TV at CES this year. Here's a look. ...
Ultra-D Technology Releases Glasses Free 4K 3D TV for Your Own Home
Stream TV Networks is proud to debut its proprietary Ultra-D™ 2160p technology which features an Ultra-D™2160p powered display, delivering the sharpest 3D experience outside of the cinema – plus...
Total 3D Solutions markets 3D Glasses to dentists.
Cool idea - but I still think Nitrous Oxide is the way to go. ...
3DGeeks Doomsday Giveaway #3: Vizio Theater 3D Glasses Family Pack
Looks like this will be our last giveaway before a nuclear zombie apocalypse engulfs the world. Might as well bring the family to a 3D movie with these glasses, which also work on all passive 3D TV's...
3D Printed Glasses Save You Money on Your Prescriptions
Finding a nice pair of glasses sucks. First you need a frame that fits your prescription, then you need to find a pair that looks good (and hopefully doesn't cost $500). But 3D printing has solved th...
How To Make 2D Glasses for 3D Movies
The guys from tested show how to convert 3D glassed to 2D. ...
Viren to release a glasses free 3D Tablet this fall.
Watch movies and browse photos in high-impact 3D on the go without glasses. ...
First Real 3DTV Glasses Free From DaVinci 3D
DaVinci 3D ROKU Channel Rocks 3D Summit with 3D Auto Conversion and AS3D Breakthrough....
Glasses Free 3D Movie Theaters may be closer than we think.
In an article publish by Optics Express, a group of Korean Scientists have developed have developed a prototype that is scale-able to theaters. ...
New $5000 Augmented Reality Glasses Are For Sale
Augmented reality - The next big innovative leap in technology. And guess what? Vuzix has just released its new STAR 1200 XL Augmented Reality Glasses!...