Posted by: Jim on: 10/13/2012 07:01 PM
In an article publish by Optics Express, a group of Korean Scientists have developed have developed a prototype that is scale-able to theaters.
The system is designed to use polarized slats which stop which stop or allow light depending on where you want it. This offset creates a 3D depth effect with no need for glasses.

"Abstract: In a typical auto-stereoscopic three-dimensional display, the parallax barrier or lenticular lens is located in front of the display device. However, in a projection-type auto-stereoscopic display, such optical components make it difficult to display elemental images on the screen or to reconstruct a three-dimensional image, even though a projection-type display has many advantages. Therefore, it is necessary to use a rear projection technique in a projection-type auto-stereoscopic display, despite the fact that this is an inefficient use of space. We propose here a frontal projection-type auto-stereoscopic display by using a polarizer and a quarterwave retarding film. Since the proposed method uses a frontal projection scheme and passive polarizing components, it has the advantage of being both space saving and cost effective. This is the first report that describes a frontal projection-type auto-stereoscopic display based on a parallax barrier and integral imaging by using a projector. Experimental results that support the proposed method are provided.

You can read the full version of the published paper here in PDF format.
http://www.opticsinfobase.org/oe/viewmedia.cfm?uri=oe-20-18-20130&seq=0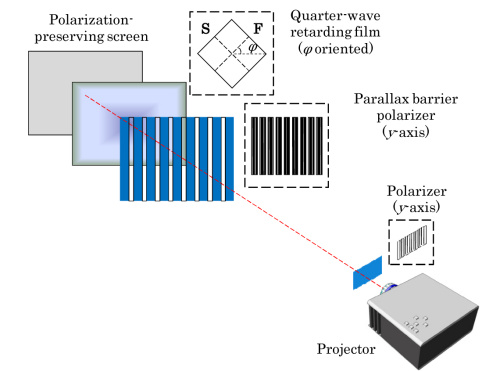 ---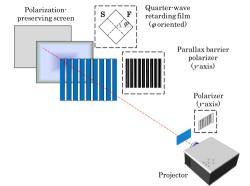 Comments
Related Stories
New $5000 Augmented Reality Glasses Are For Sale
Augmented reality - The next big innovative leap in technology. And guess what? Vuzix has just released its new STAR 1200 XL Augmented Reality Glasses!...
3D Printed Pixel Sunglasses Cost More than a Plane Ticket
These sunglasses make that 8-bit pixel look super-stylish, but why do they cost so much?...
Panasonic Shows Off 103" Glasses Free 3D TV. Largest in the World!
Panasonic's 103" 4K 3D TV that was revealed in Berlin's IFA show this past week was, unfortunately, not very good......
This Lens Claims to Make Your iPhone Glasses Free 3D
Theres more and more 3D gadgets out there for your iPhone, but this one seems a little crazy. Can it be real?...
Prescription 3D Glasses For Sale Now
Hate having to wear 2 sets of 3D glasses at the movies? Prescription 3D has solved your problem!...
Official 3DGeeks 3D Glasses Are Now For Sale For Just $.99
Your requests for cheap and easily available 3D glasses have been answered: Our new limited edition 3DGeeks official 3D glasses are ready for shipment!...
100 People get FREE 3D Glasses by Entering our Giveaway!
Yep, we are giving away 100 pairs of 3D glasses to those of you who like our Facebook page!...
Deal Alert! LG Cinema 47LM6700 47 Inch 3D Smart TV with Six Pairs of 3D Glasses Only $799!
We all love spending money, but we love saving money even more. Get over to Amazon now to get a great deal on this 3D TV! (link inside)...
The Hobbit Special Edition 3D Glasses Sneak Peak
We dug up some pictures of the special edition RealD licensed 3D glasses for the upcoming movie The Hobbit....
MasterImage 3D Partners with Huge Chinese Display Company to Make Glasses Free Mobile 3D Displays
MasterImage 3D already makes auto stereoscopic glasses free 3D displays for touch screen mobile devices, but they have now partnered with China's largest LCD panel maker, Truly, to make global distri...