Posted by: Jesse on: 10/28/2013 12:08 AM
This display can be controlled in 3D space using a Leap Motion controller, as well as show you full 360 degree images. Pretty wild, and only $30! Check out their IndieGoGo campaign inside.
We like simplicity, and thats exactly what this new holographic display is. Simple add an iDevice, Android tablet or smartphone, or Windows phone (did anybody buy those?), add an app, and away you go. You can watch specially created video in surprising clarity, all while looking completely around the image.



This actually isn't the first display of its kind. A few months ago we also saw HOLHO debut on Kickstarter (who's funding was cancelled, but now they have another campaign starter... weird) that has a very similar product. All of this is loosely based on proprietary work done by RealFiction.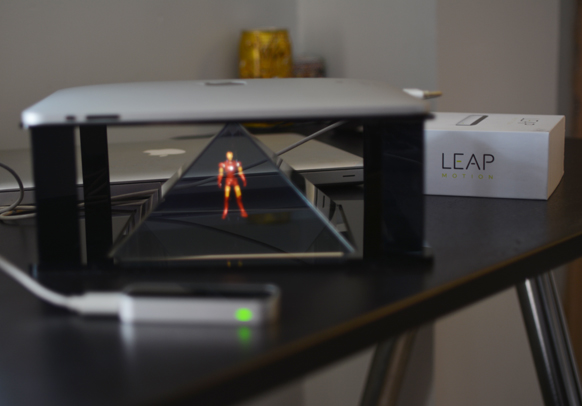 Either way, Hololo is a cool product, but the campaign seems to have not taken off (only 7 days left and they have raised $760 of a $15,000 goal). Go check it out here, maybe you can add some support to the fund raising!
---
Comments
Related Stories
Japanese Company Makes 9 inch Tall 3D Prints of a Mini You
Ah yes, the classic family portrait. Starting with drawings, progressing into paintings, then beautiful sculptures, and ending with photographs... or does it? ...
Japanese Company Builds Laser Plasma 3D Hologram
This Japanese company built what many to consider a true 3D hologram, using lasers. Craziest part? This was a year ago! ...
Japanese Man Creates Real Holographic iPhone Display
We have seen some fake iPhone hologram videos before, but this one is legitimate. Special crystals are used to distribute video in 3D... ...