Posted by: Jesse on: 07/07/2012 10:10 PM
We were going to write our own Katy Perry: Part Of Me 3D review, but Film School Dropouts posted a review thats so awesome we have to repost it...


Katy Perry's new movie has done well, but now awesome, according to viewers. This review from Film School Dropouts sums up the film very well - read it here at 3DGeeks or over on FSR's website. Overall, it was rated a B+

From FSR:
"What are you doing here?" The question came from a few seats down. A valid question, posed by what appeared to be a wide-eyed, infectiously excited 12-year old girl, somehow struck with a moment of incredulity. What is this bearded man, who clearly has no sense of style, doing at the 2pm opening day showing of a movie about Katy Perry? "I'm a film critic," I responded, half wishing that I could bury my face in my Moleskin notebook only to realize that I'd brought the small one. "I have to review this movie." She gave me a cross look for a long moment over her blush and bashful-styled 3D glasses, allowing her 12-year old brain to process something so profound as a 6'2″ bearded man here to judge what I can only assume is one of her heroes. "Well, okay," she responded cautiously. "But be nice to Katy. She's really great."

Somewhere amongst the adrenaline rush of waiting for a movie to start and the overwhelmed joy of those cute 3D glasses, this little human's brain found a moment of clarity and reason that delivered one simple piece of advice. Advice that cut right to the core of my purpose for showing up to a screening of Katy Perry: Part of Me 3D on that scorched summer afternoon. She knew that I was there to sit in judgment of her hero, and she knew that I'd bring with me a certain amount of cynicism that we're conditioned to expect from the mainstream media. The media machine that celebrates the rise and fall of celebrities, but never really finds time to simply be happy in the moments that come in between. We don't celebrate our pop icons — not like the kids do — we wait patiently for the moment when we can tear them down. This little girl was having none of that from me. Her expectations, like that of the larger-than-life singer/songwriter we'd later see in three vivid dimensions, was that I go into the experience and allow yourself to be who you are, have an open mind and allow yourself to be happy. It's a good message. That said message comes from a 12-year old girl who never learned not to talk to strangers or a blue-haired pop goddess dressed up like Harajuku Alice in Wonderland should be of no consequence. When it comes to movies, what's wrong just sitting there and being made happy? Nothing. That girl has a point.

Or she was a little creeped out. It's still hard to tell.

The backbone of this high-tech pop odyssey is Katy Perry's California Dreams tour, a 124-show, 9 leg world tour spread across 11 months of absolute logistical hell. One massive production to support the weight of a massive fan following around the world. At the center is Katheryn Hudson, a 27-year old pop journeywoman raised by a Pentecostal preacher who wouldn't let his children eat Lucky Charms because "luck," as a concept, is the work of the devil. From that upbringing came some rebellious years, a move to Los Angeles and an surprisingly long period of failures before she became the pop star we've seen on the news. Before she was walking through wonderland singing about kissing girls and how it made her feel, she was a girl who drew inspiration from Alanis Morissette, wrote songs about her life and had trouble with record labels telling her who she should and shouldn't be. It wasn't until she found someone who'd let her be herself, the documentary explains in no uncertain terms, that she found her path to super-stardom.

The film itself, directed by Dan Cutforth (of Dance Your Ass Off fame) and Jane Lipsitz (producer of one of my favorite recent docs, Air Guitar Nation), is a technical marvel. It communicates excitement through swift cuts and beautifully shot concert footage. In between interviews and back stage moments, there's hue and fury. A fierce rainbow of slow-motion photography and a soundtrack filled with toe-tapping bubblegum pop. It's impossible not to appreciate the showmanship of Katy Perry as she changes — on stage — her outfit 6 times (by my count) during one song, all the while belting out lyrics about true love, too many shots and having no regrets about any of it. The purpose of 3D has always been, as the commercials say, an immersive experience. Get yourself into the movie. This is the kind of movie they had in mind when they wrote the honesty in that statement. Cutforth and Lipsitz truly deliver moments of absolute immersion. And it's fun, I'm not ashamed to say.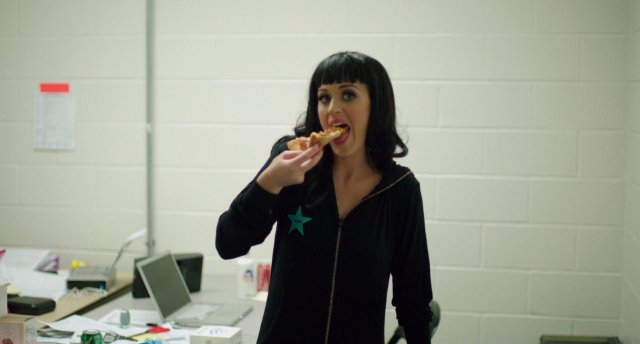 Even though there's plenty of behind the scenes moments — early morning workouts, endless rehearsals, a beautiful celebrity being "real" and eating pizza — the filmmakers do stop just short of giving us a real peek behind the curtains, almost providing insight as to why celebrity relationships fail. But with the guidance of the film's producers, one being Perry herself (as her assistant explains, "She's the Chairman and CEO of everything Katy Perry) and the other being champion-of-the-middle Ron Howard, the storyline of the failure of her marriage to comedian Russell Brand is only used as a dramatic device. It's there to get us to her moment of strength, when a sobbing Katy pulls herself together, plasters on a smile and belts out her songs to an adoring mob in Sao Paulo, Brazil. Then again, there's logic in that. Because what's more important in the context of this film? The fact that her marriage fell to pieces or the details of the time she spends meeting fans and bringing Make-a-Wish kids up on stage with her? Hers is ultimately a story of happiness, so the movie gets through all the rest of it efficiently. And there's no fault in that.

There's no fault in any of it. What they've delivered a technically sound, exciting concert film that gives fans exactly what they're looking for: some time with their favorite pop star. Savvy studio execs have turned this formula into a category of gold, bringing the same demographic out to see 3D renderings of Justin Bieber and Miley Cyrus, complete with built-in Facebook Like buttons. They've found a way to deliver well-paced, visually stunning big screen events for which tickets are priced far more reasonably than floor seats at the Staples Center. The commercial prospects are huge.

Should these kinds of films offer us more than just a 97-minute campaign ad for happiness and lyrical joy? Perhaps, but do we really want the two-hour version of why a pop star and her comedian husband couldn't make their marriage work? Is that the story we'd like the 12-year old girls of America to see? No. They've already got enough emotional trouble on the horizon thanks to Bella Swan. From where I'm sitting, Katy Perry is exciting to watch, she's a product of hard work and an independent spirit and she's preaching happiness and being weird. And she's doing it with a high-pressure foam cannon of positivity. There's something truly infectious about that kind of optimism. Something you just don't find in many other places. Go easy on Katy. That's what I was told three minutes after sitting down. Be nice to Katy Perry? That's easy. She's a beacon of silly, happy things. And when it comes to proving that she's a genuine star of her time, she doesn't need my help. She appears to be doing just fine on her own.

The Upside: Delivered with infectious energy, Part of Me gives us moments of note mixed in with a gorgeous, immersive concert experience.

The Downside: Ignoring the commercial motivations behind a movie such as this would be criminal. But the real crime would be discounting the technical achievement based on the subject of the doc.

On the Side: The story in the opening paragraph of this review is absolutely true. As any documentarian will tell you, sometimes you go looking for a story and you just get lucky.

---
Comments
Related Stories
Katy Perry: Part of Me 3D Premies in Theaters Today
Katey Perry is finally releasing her much awaited 3D movie today! Part of Me will be a big hit it you are a Katey fan, and even if you don't like the music star you will find her story heartwarming....
Katy Perry Makes Surprise Appearance at Part of Me Screening in London
The lucky audience invited to attend a special sneak preview of Katy Perry: Part of Me London were given an added surprise when the pop superstar turned up in person to introduce her new 3D feature....
Katy Perry Releases New "Part of Me" 3D Video Teaser
Katy Perry JUST realized this new video for her upcoming movie Part of Me, which will be realized July 5th in 3D. ...
Katy Perry Releases "Part of Me" 3D Movie Poster
Katy Perry finally released her official poster for her upcoming movie, which will be released in 3D! ...