Posted by: Jesse on: 12/30/2012 05:23 AM
CG is tough stuff to do. CG in 3D (say that ten times fast) is even tougher. CGing an entire Tiger, plus make it 3D? Craziness.
But, thanks to Tim Squyres, this all happened, and came out pretty-dang-good! Squyres has been around the block before. Hulk, Sense and Sensibility, Lust, Caution and Crouching Tiger, Hidden Dragon, and other major motion pictures are all under his belt (those earned him an Academy Award nomination for best film editing, by the way).

So, of course, Ang Lee knew exactly who to ask when embarking on his most recent film, Life of Pi.




"There are hundreds of little decisions you make per day. You just do it. You do what feels right. You can think exhaustively or you can go by feel. Ultimately, you develop instincts about what things work. When you first see the footage, if something is really striking you have to really trust that. It's not a science. Sometimes things work in ways you can't really quantify."

See the rest of the story here, and The Verge: http://www.theverge.com/2012/12/15/3758926/life-of-pi-editor-tim-squyres-challenge-shooting-3d-cg-tigers
---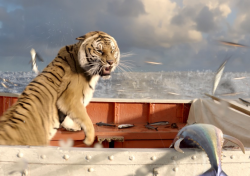 Comments